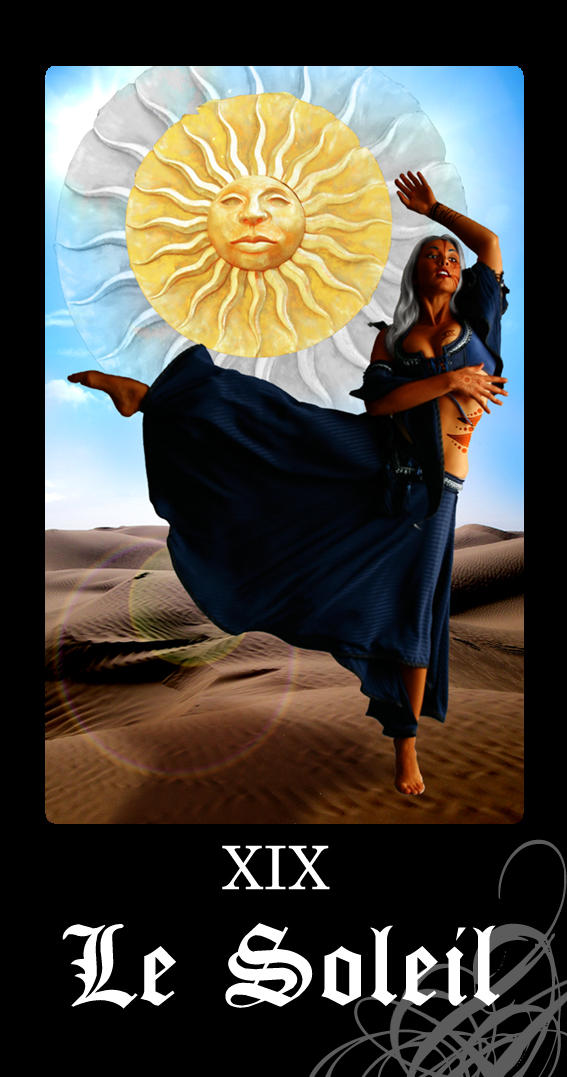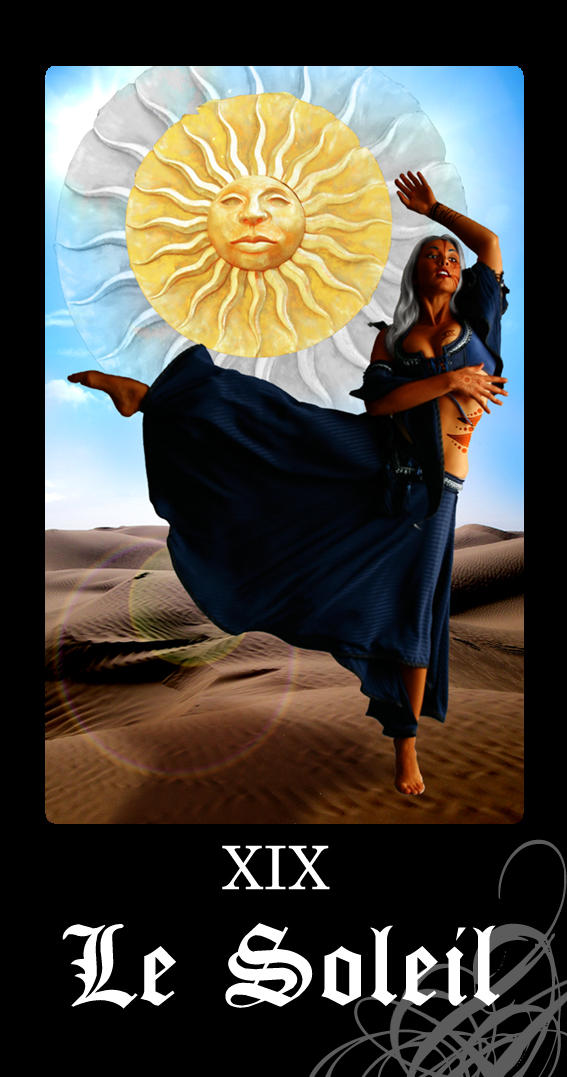 Watch
XIX - Le Soleil
Les rayons brûlants du désert, la danse éternelle, la quête de la chaleur et de l'unité.
Le Soleil nous parle de notre être de chaleur, de notre bonheur, des rayons brûlants de notre vie.
L'Arcane Majeure XIX, le Soleil, Ninska du Tigre.
Ninska est une femme du clan du Tigre, l'une des Possédés du clan. C'est l'une des très rares survivantes de ce clan, qui a été exterminé dès les débuts de la guerre, car représentant un trop grand danger. Elle est en grand froid avec ceux du clan du Lion (Mattthew et Digitale), excepté Juan (en tant qu'adopté, il a appris les techniques des possédés sous sa direction) avec lequel elle a gardé contact, malgré leurs grandes différences.
Ninska s'est imposée à Nacht und Nebel. La première fois qu'elle est allée les voir, Justice a déclaré que quoi qu'il arrive, ils ne pourraient pas s'éloigner de cette femme. C'est, avec Juan, la seule personne capable d'être possédé par n'importe quel Dieu. C'est pour cela qu'elle représente une note d'espoir pour le mouvement, car au dé

art, elle est la seule à pouvoir le faire.
Elle a le caractère brûlant du désert, emporté et colérique le plus souvent, mais parfois douce, parfois froide.
______________
XIX - The Sun
The burning rays of the desert, endless dance, the search of warmth and unit.
The Sun speaks to us of our being of warmth, our happiness, of burning rays of our life.
Arcana Major XIX, The Sun, Ninska of the Tiger.
Ninska is a women of the Tiger clan, one of the Possessed. She is one of very rare surviving of this clan, that was exterminated at the beginning of war, because representing a too big danger. She is in big cold with those of the clan of Lion (Mattthew and Digital), except Juan (as adopted, he learnt the techniques of the having under her direction)
Ninska was obvious to Nacht und Nebel. The first time when it went to see them, Justice declared that whatever happens, they could not move away from this woman.
It is, with Juan, the only person able of being had by any God. It is for it that it represents a note of hope for movement, because at first, she is the only one to be able to make it.
She has the character burning as the desert, taken and hot-tempered most often, but sometimes soft, sometimes cold.
______________
Stock used
[link]
by

= the sun
[link]
by

= the desert
[link]
by

= the sky
[link]
by

= the model

Reply

magical. A wonderful interpretation of this card. I'm enjoying your personal mythology as well. Cheers!
Reply

Thank you very much !
I love working on it with those characters. Sometimes, they make me discover a whole new point of view on them (well, especially the futur Devil, which, at first, I would never have seen has this arcana at all ...)
Reply

Reply

Ooooh... jolie carte que voici ! Elle rechauffe un peu !
Reply