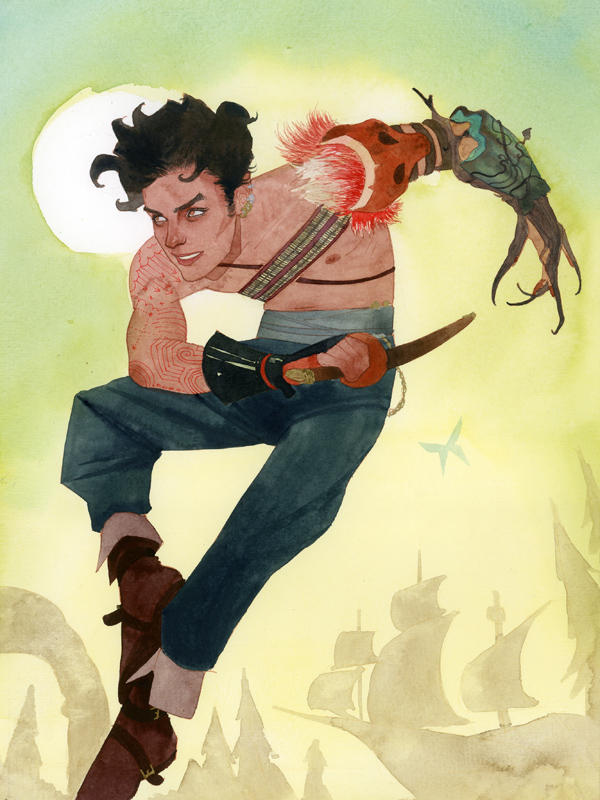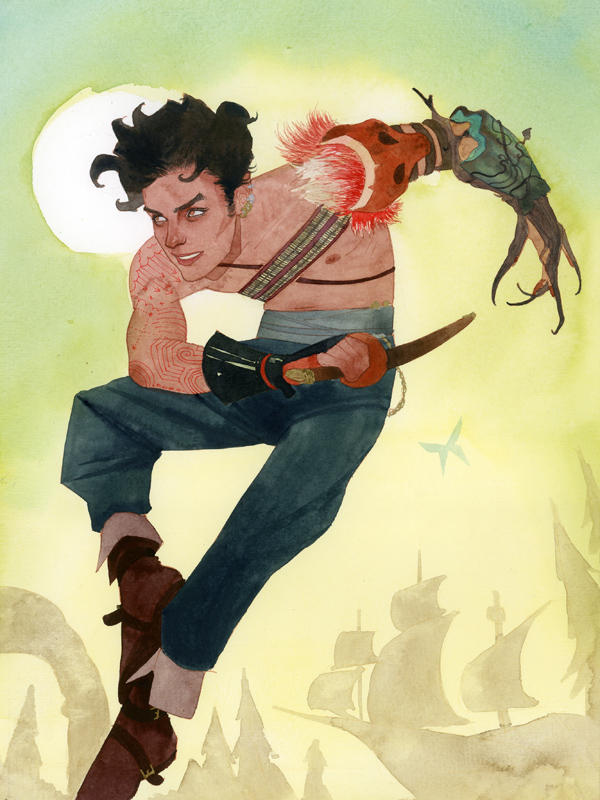 When someone asks you to paint Peter Pan, do you ever say no? I see a lot of him in me actually. Mainly the never wanting to grow up (old) part. He's a divine character and there's a reason why he still fascinates. The commissioner wanted to play off his youth and playfulness, but also the more sinister side to his personality. He's a boy or a young man depending on how you view him. We went with a slightly older Pan. He's as much virile and strong as he is boyish and immature. The dichotomy between those two things was a really fun thing to imagine. Let me know what ya think!

EDIT:
I forgot to talk about his outfit a bit and what inspired it. I decided to do a very mishmash kind of look for Pan. Lots of found objects on him. He probably stole those boots and lifted that sword from a defeated pirate. His right arm gauntlet is slightly Asian-esque - perhaps this Pan has traveled the world... ...Of Neverland... There's an Asian equivalent in Neverland I guess. His left arm is adorned with knick knacks from the Lost Boys and he has a giant clam shell as an arm guard and shield on that forearm. For some reason, I really enjoyed the idea of him having claws, and I lifted that idea from an old sketch of Pan I had done back in school. And that Peter Pan was much more otherworldly looking and very creature driven. He was pale blue, with even pointier ears and covered in barnacles and had this crab-like claw for a hand. So I took portions of that idea and created this wood-claw-tree-organic like glove that grows around his entire arm. The commissioner saw the piece and enjoyed how Peter seems to embody all these aspects of the island. He saw the Indians in his shoulder treatment, the lost boys in his arm guard, the pirates in his pants and shoes and the golden arrows that point to the island in Peter's arm tattoo.

Maybe someday I'll make that creepy elf-like creature Peter Pan with the claws and blue skin... OMG WITH THE MERMAIDS.