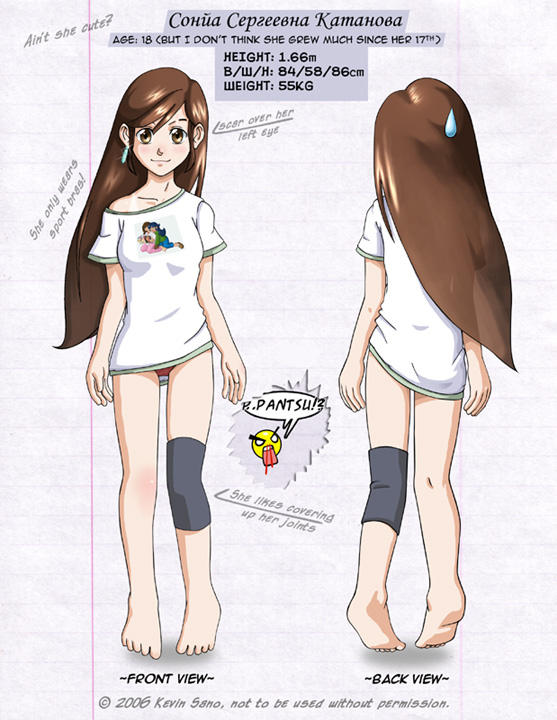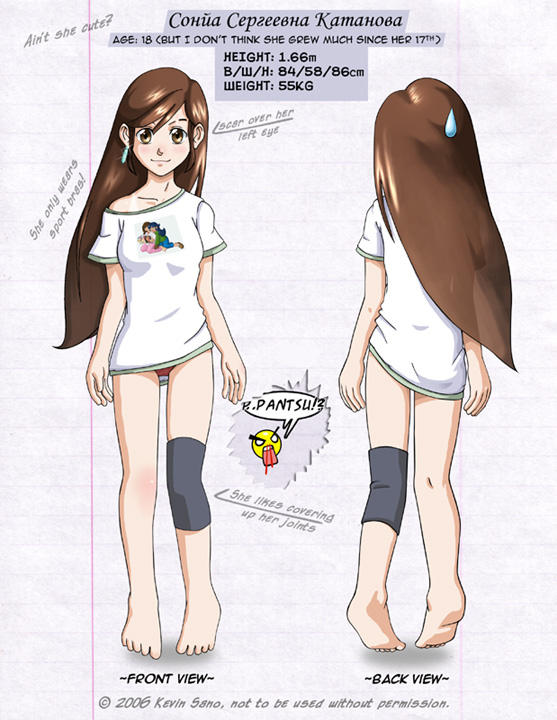 Watch
EDIT: It has come to my attention that the name Karinavitch is Male-gender, so I'm temporarily changing her name to Petronova until I sort things out...
I wonder if a pantyshot warrants a mature content tag... probably not.
In part inspired by celesse's character sheet
[link]
But I always did want to do one of these, honest.
Anyway, Sonia was the first original female character I ever drew(about 8 years ago as Sophia). Her current design is a combination of 2 girls I met in school.
(my mom too, but I won't get into that).
Sonia is Russian, hails from the chukotkan region in Siberia, and speaks English with a slight accent. Her mother was an Yupik, who died after giving birth to her. She has 2 half brothers from a different mother living in Moscow. Their father is a scientist doing research in several subzero regions.
She's a lot less cuter/ditzier than she looks (especially in this deviation), which is to be expected, given her occupation (armed combat expert!!). Her small build holds more power than is thought possible, although her being an experimental mutant may have had something to do with it.
Her love interest eventually becomes Jason (found in my gallery), the same person responsible for the scar on her face.
Sonia Sergeyevna Petronova is part of the ~Rising Ragnarock continuity~
Ain't she cute?