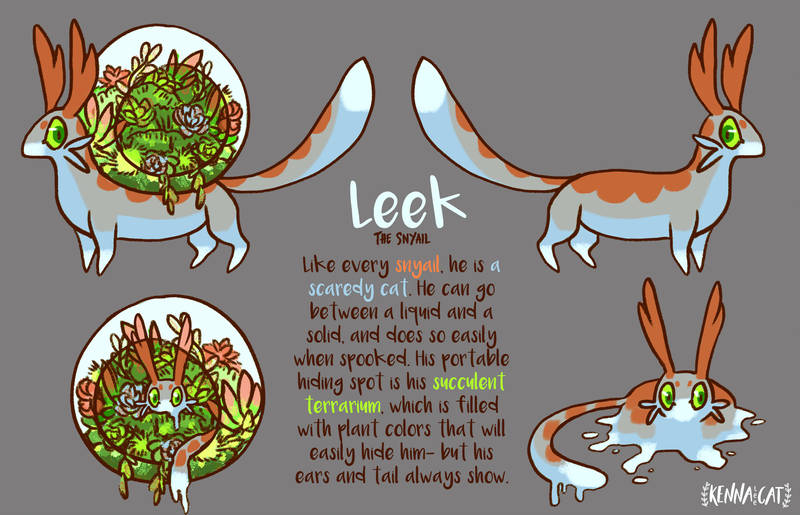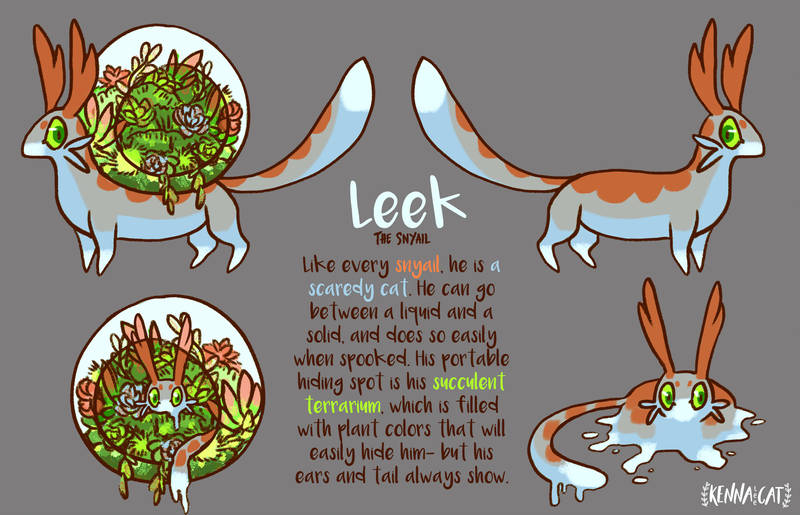 Watch
So,
Jacomotali
came up with this awesome open species called Snyails and I am IN LOVE.
Needless to say, I needed to make one! ;3; Mine is a sassy scaredy cat. If you spook him he'll wait till you're gone and then knock everything you love off of your table. He found this beautiful succulent terrarium and won't ever let it go. He likes to ooze into the cool dirt on hot days and just relax among the plants. Since he can be kinda liquid, his marking might fudge a little different here and there but WHOOPS yeah that's just an excuse for my continual lazy coloring on my personal reference sheets HAHAHAhahhah *cough*

Reply

Reply

I'd have a 10000 as pets! But in reality, I find them super odd and they make me squeamish XD
Reply

PREACH I like animals but slugs snail and worms are hella no. I'd have a slinky bean like the snail you drew as a pet any day especially if it had succulents on its back like who wouldn't want that
Reply

XD YES!!! Also I didn't get to comment on your profile- but your pixel art is hella cute! I especially love the full characters with the circle backgrounds- great design!!!!
Reply

;0; oh my god thank you so much that means a lot because I love your pixels and all your art!!! <3
Reply

Aww hahah thank you! Most of my pixel work is super outdated because my program I used permanently crashed with my old computer, and I've been on hiatus. I finally found a new program today though, after months of re-working things and finding my place hahahaha so I'm actually reworking pixels and posting them week! : )
Reply
(1 Reply)

IM CRYIN THIS IS PERFECT I LOVE HIM SO MUCH that terrarium is so good i cnt get over how cute he looks in it... what a perfect baby... admires him...
Reply