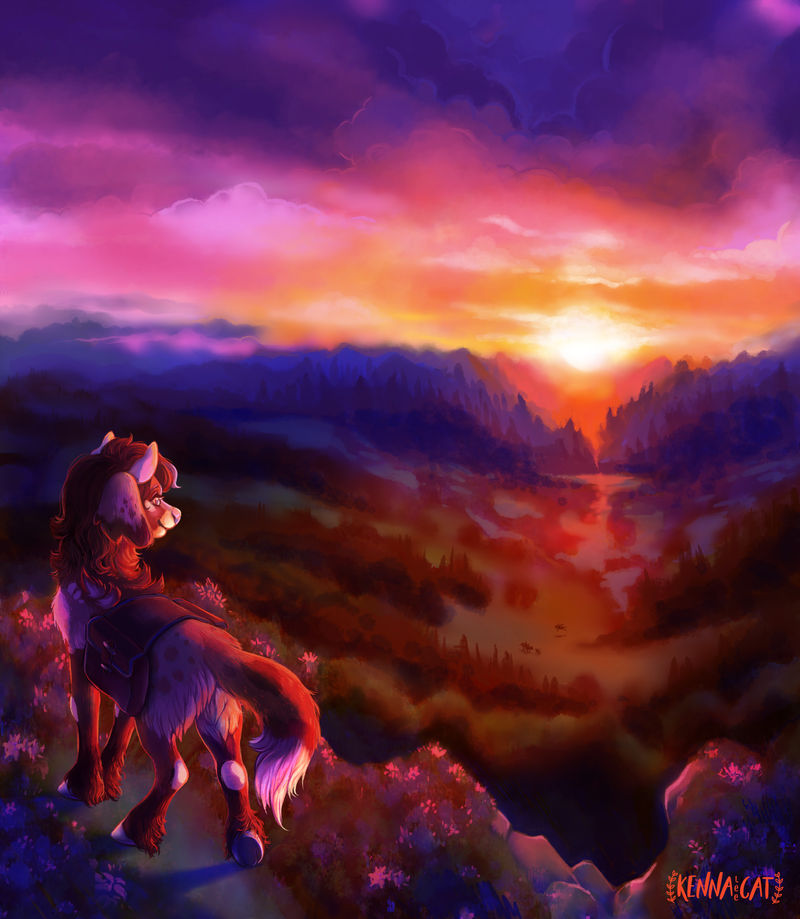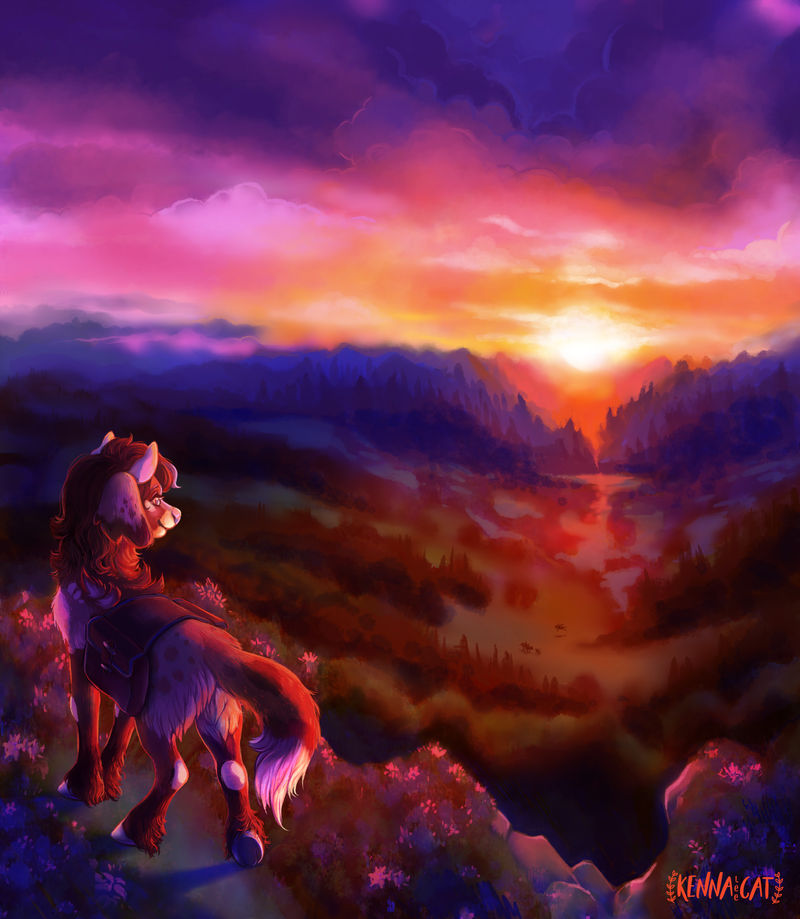 Watch
Cotton was known as a loud, excitable pouflon. Everylon who knew her, was well aware of her demeanor. But contrary to her colorful personality... she was very much a homebody- her favorite place to be was either in her quaint garden or her comfortable cottage. Many a friend or family member would urge her to socialize, or go on an outing... but usually, she'd feign illness or make some excuse and spend the day in the sunshine or an evening reading a book.
But every once in a while, when no one seemed to be looking, she would steal a moment alone...and go on an adventure. Not directionless, of course, but rather a familiar well-trodden excursion to a place only she seemed to know. On the summer days when the sunlight shined a cheerful yellow, she'd don her favorite travel satchel, lock up her front door, and head into the hills. Many a flon would see her as she made her way across the beautiful countryside. Most thought it odd to see her so far from home, but few questioned her destination- it seemed silly to answer a flon such as Cotton- whatever she was up to just HAD to be a mischievous secret.
High in the hills, where the craggy rocks start to jut out from the mud and the air becomes just a tad bit colder- there is a large patch of flowers. Small bushels of soft pink that bloom fragrant and sweet. Although such a long trek is needed to find them and they are so out of the way of wandering pouflon's eyes- they truly are worth it. Their taste reminds Cotton of the best moments in her childhood. Late evenings spent sneaking out on to adventure with her elder brothers. Galloping around the neighboring fields with her best friend, or bartering with local vendors to find the tastiest flowers. The time she sewed her first garment... or the warmth of her mother's fur as she sang lullabies.
The small rose-colored flowers could be used to make a sweet, soothing tea- one of her favorites, and one she is well known for making. She's continually asked what the secret to "Cotton's Tea" is, but she'd never share her secret- however, not for the reasons one would think.
Every time Cotton would venture to this particular place, the view would leave her breathless. The colors, the sights, the sounds- each one was a moment to treasure. And to her, it was HER treasure. As the golden summer sun would set over the farthest mountains, it would bath the land below with a rainbow of colors- the entire landscape would glimmer, warm and beautiful. Every time she sees it, it is a moment that re-instills her with a passion for the land she sows in her garden, and the gorgeous countryside she called home.
The true secret to Cotton's tea isn't the flowers (which are common all around Goldfair) but rather the sunshine and love she carries with her.
As the sun finally sets behind the mountains, and the purples and blues of the evening grow deeper- Cotton finishes her gathering and makes her way home. By the time the lighting bugs glow and the summer frogs croak- she'll be back at her front door. The inside of her home is always lit, by then, and she'll enter the house to find the fire lit and her best friend in the kitchen. Cotton will take some of her treasure, and slowly brew tea. And the two will sit down to dinner together. Overcast never asks where Cotton has been. She wouldn't dare to pry- or rather, she isn't the sort to do so. Instead, she'll smile softly to herself and look at the sunshine in her friend's eyes and know that it truly was a grand adventure.

Prompt: Light, 2 coins
640 words: 1 coin

This is absolutely stunning, your use of colour in this image is so nice to look at! It's so warm and impressive,a nd the landscape itself is really nicely depicted, too!
Reply

Reply

Oh wow, this is so epic!
Love the colors you used in this piece :>
Reply