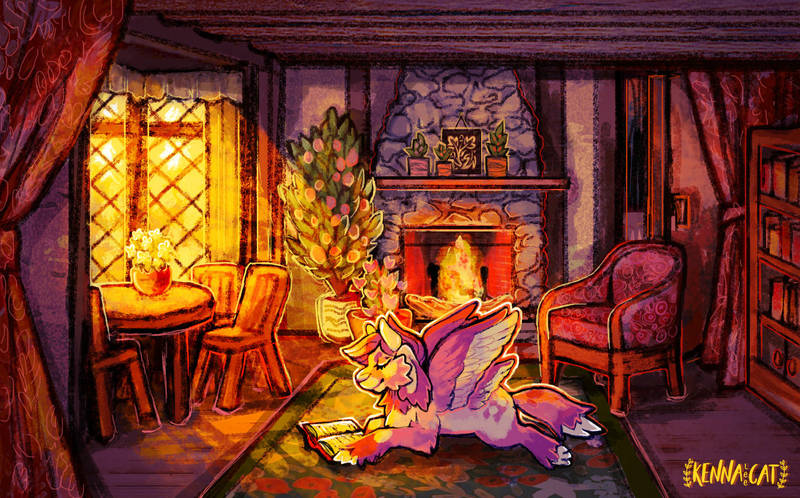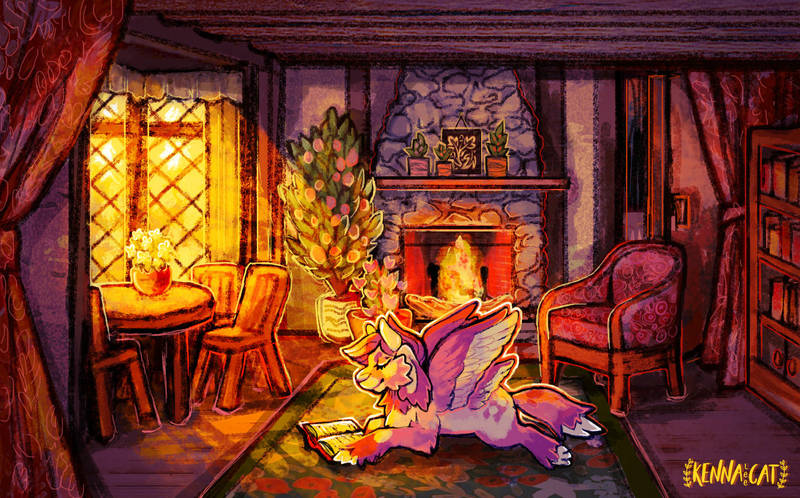 Watch
After a long hard day tending to the garden, Cotton's favorite past time is to read. She'll lay down on her soft living room rug and soak up the last bits of daylight. The glow of the evening fire is warm. It's gentle crackling and the wind chimes from outside create a soothing white noise. It's the perfect background to the paperback adventure laid out in front of her.
Reward:
2 Coins

OMG this was hard. I haven't done a full scene in a LONG time, it was so overwhelming. I'm glad I'm doing these more and challenging myself because I'm growing as an artist..... but WOW hahahahahha this was exhausting! also I think I did almost the same pose as last time without even thinking about it, I'm so boring hahahah

Your whole gallery IS AMAZING

why have I never found you before??

Reply

Oh haha thank you?! That's super sweet of you ;3;
I'm not very good at tagging things or doing that whole "social media presence" thing... so I tend to fall through the cracks.
Reply

Haha SAME
I've been on DA on an older account and this one for a total of 10 years and don't get that many views (I also only recently graduated and had NO time for da in college)
I have a tight knit band of really sweet people who like my stuff though so it's all good! : D
and you are so welcome!!

Reply

I'm kinda the same. I've been on this website since it was dark colored and super slow XDD
I used to have a ton of time for dA and be super active (and get DDs and other community recognition).
But over the years my health has declined and so has my ability to put in time.
I want that to change, so I've been trying to be on more, but also my hands aren't doing well so it's harder to draw.
If you ever want to do an art trade or anything, let me know! I think your art is beautiful!!
Reply

you really pulled that background off despite not having done one in a while!! everything fits together really nicely and the colors and textures are beautiful!
Reply

Thank you so much! Landscape, and interiors have always been my weakest areas. In the past I've always been the floating character on neutral background kinda artist hahahaha. So I'm determined to use the RP group prompts as a way to force myself out of my comfort zone and into becoming a more well rounded artist.
Reply

you're very welcome!! i totally understand, backgrounds still scare me too haha. that's always a great use of RP prompts, good luck with improving your skills!!
Reply

I loovveee the background in this! It's such a nice atmosphere and the TEXTURES and the lines and just ahh!
Reply