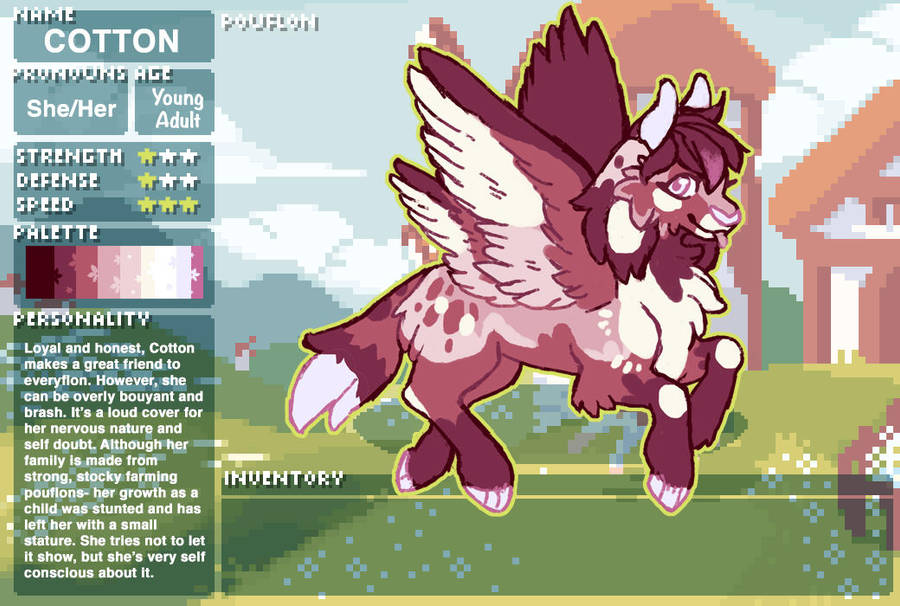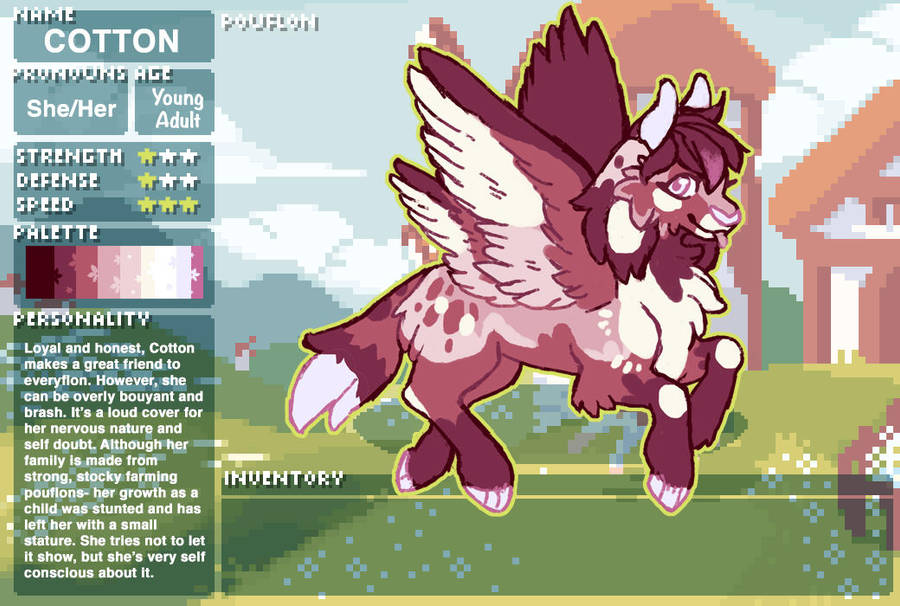 Watch
INFOName
COTTON
Nickname
Ton ( Only to friends )
Occupation
Farmer who grows flowers.
Residence:
Goldfair

Runic Color: #f0ecff
About::
A small pixie pouf who makes up for her size in noise, jokes, and loud confidence- she's the boisterous friend with the lampshade on her head at parties. Underneath it all, she's actually shy, wary of strangers, and nervous- if she didn't cave into social pressures so much, she'd probably spend more time in the garden she loves so dearly. Her occupation is the farming of plants in her backyard- most of which are used for creating specialty dyes. She sells them to other poufs as a way of putting a little color back into the world. She loves handiwork like sewing, knitting, and weaving- but lacks the confidence to actually pursue them as anything more than quiet hobbies.
Tottie comes from a long line of farming pouflons, the only daughter in a long line of what has always been sons. All of her family are large, stocky Plucky sized farmers with huge farms- so her small stature and quaint garden make her feel detached from her family. Her size is something she's extremely self conscious about- but she'll be loud and "proud" and won't ever show it.
Pippet Companion:
a
Haloe named Flora. Haloe's are "s
kittish and shy" and "will curl into a bumpy ball if they're startled- and roll quickly away if they're really scared. They're quiet, gentle, introspective souls that enjoy nature and good company."

Current Inventory:
(To be designed,
MYO Full Outfit)
TRAITSBuild
Pixie (c)
Antlers
Big Moo (c)
Ears
Mellow (c)
Wings
Normal (c)
Tail
Pup (c)
RELATIONSHIPS/CONNECTIONS

family //

mate/crush //

friend //

enemy/rival/dislike //

deceased //

unknown

Overcast Registration
- Overcast is her closest friend, who happily tags along for most (if not all) of Cotton's wild adventures.


Farley Registration - Farley is... a short jerk who easily gets under Cotton's skin. She'd never admit it out loud, but she cherishes their tit-for-tat friendship/rivalry.


Flash Reference Sheet
- Flash is the wild older brother figure Cotton always wanted- they met as children and have been close ever since.
_______________________________________________________________________________________________________________________________________________
OTHER ART OF COTTON:
toyhou.se/1382535.5-cotton-pou…
Original Design Source / Official Art:

omg so cuute!! Any interest in friends for her? :>
Reply

Sure! I haven't been very active, but I'm always up for friends and for people to draw her <3
Reply

Can i
can I draw her with my pouf? ;o;
Reply

Oh sure! hahah Ive only recently had the time for my poor poof, so I'm excited to get the chance to form relationships with other poufs for her! Hopefully I'll get to draw ours together sometime!!

Reply