asked for 8 facts about my OC villain Beauvais Bouchard, so without any further ado, here we go. . .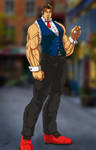 1. His look was a collaborative effort between myself and

I specified the vest/waist coat and ripped off shirt sleeves and Sean added the stopwatch, cufflinks, and red shoes.
2. Beauvais's physique is based on Dudley's from Street Fighter III, but obviously not his personality. Because Dudley is a classy gentleman.
3. The French-Canadian has been banned from Canada. He says, "Because I am just too sexy!" But the truth is a little different.
4. He loves to park his Dodge Viper sideways across two handicap parking spaces.
5. I created him because I wanted a Savate practitioner to battle Dark Siren, but to mix things up I didn't want him to be French. So I made him French-Canadian.
6. Bouchard works for criminals as an enforcer. "Got a problem with heroes? I'm the Solution!"
7. When I created him, I didn't really have a good face reference. So I asked the artist to give him a "punchable face". Also searched using an unkind keyword

8. His favorite thing to eat is a tuna fish sandwich with no crust. And it has to be cut diagonally.
Also,

asked for 8 facts about my Dark Elf villainess, Zellaena Glauroavae.
1. Her name comes from a fantasy random name generator which unfortunately I have lost track of.
2. While she is definitely evil, she hates Dark Elf Society. Zellaena considers it completely insane and much prefers to live on the surface.
3. Loves to collect fancy daggers and really loves to "blood" them by backstabbing a victim.
4. On her first mission on the surface world, she sabotaged her own team, getting them all killed so that she would not have to share the loot.
5. She often uses poison darts in a wrist-mounted crossbow to paralyze her victims.
6. Even though her Elven Chainmail Bikini did not give her the combat bonuses she had hoped for, she likes to wear it for the attention she gets.
7. Zellaena enjoys being worshipped by lessor beings, and she considers EVERYBODY beneath her.
8. Among her favorite delicacies are barbecued baby wyvern wings served with a nice Aboleth liver dipping sauce.
I won't tag anyone specifically, but if you have an OC you haven't done one of these for, consider yourself tagged. Give your watchers a chance to get to know your characters