::UPDATE 2:: July 29, 2010
CURRENT DONATION TOTAL - $480
Just a small update now. We're almost at $500! It would be awesome if we can get there!!
I want to throw a big shout out to
The Labyrinth Book Store
!! They were kind enough to advertise our cause on their
blog
! They're a Toronto based store that specializes in art and comic books! It's where I get most of my art books

So give them some love! If there's a book you've been looking for chances are they have it! And from my understanding they ship internationally to boot! So shoot off an e-mail and some love their way!
Calla, Josh, and I are all very appreciative of people's generosity so far! We'll keep accepting donations up till early September so please keep it up

Please remember that this is all going towards a fantastic cause!
Here are the wonderfully generous people who have asked for commissions so far. Josh and I are still working on the logistics of getting this all done (in tandem with our regular day jobs and previous outstanding commissions) but we're determined to get these done as soon as possible

1: Analise - Venom
2:

- OC
3:

- OC
4:

- Thornster (CoH OC)
5:

- Blackthorn (CoH OC)
6:

- Captain Quebec (CoH OC)
7: Andreas Duess - Baby Oscar (OC)
8: Jo-Ann McArthur - Super Gracie (OC)
9:

- The Rocketeer
10:

- Black Canary
11: Ian - Mad Scientist (OC)
12: Julieanna - Hello Kitty
13:

- OC
14:

- Captain America
15: Ken Frost - Darth Vader
16: Ken Frost - Wolverine
17: Eileen Marti - Evil Queen from Snow White
18:

- Conan
ORIGINAL POST:
Hey everybody! I just want to inform you that

and I are doing something different for the next little while commission-wise. My girlfriend is doing the "Weekend to End Women's Cancers"
to10.endcancer.ca/site/PageSer…
walk in Toronto, Ontario this coming September and needs to fundraise $2000 to participate. Josh and I talked it over and we're going to do some Charity Commissions!! All proceeds from these commissions will end up going towards The Campbell Family Institute at The Princess Margaret Hospital in Toronto who prides itself on their international reputation as global leaders in the fight against cancer.
These commissions will be high-res waist-up drawings of a character of your choosing!
Please NOTE that you will have to donate first before work on the commission begins.
WHAT IT WILL COST AND WHAT YOU WILL RECEIVE:
COST - Minimum donation of $15 per commission
1) High-res printable version of the pencils
2) High-res printable version of the final painted piece
3) Low-res web version for posting of the final painted piece
Example: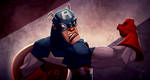 HOW TO DONATE:
We have two choices here in terms of how this is going to work.
1) You can go to my girlfriend's donation page
www.endcancer.ca/site/TR/Event…
and donate the amount yourself and forward the e-mail receipt to kayfrost.charitycommissions@gmail.com
After making the donation, you may either send a to note Josh or myself or e-mail us with your request at kayfrost.charitycommissions@gmail.com
NOTE 1: If you are a Canadian citizen you will receive a tax receipt through this option
NOTE 2 : You may delete the address field box from the e-mail receipt when you forward it to us, but you must keep in the Tracking Code, Date, E-mail Address, and Amount
2) You can send your donation via Paypal to kayfrost.charitycommissions@gmail.com and at the end of our fundraising endeavour we will donate all the money from that account through one of our credit cards.
After sending the donation, you may either send a to note Josh or myself or e-mail us with your request at kayfrost.charitycommissions@gmail.com
NOTE : At the end of our Charity Commission Fundraising I will be posting up an image of the receipt of the overall donation amount and would be willing to forward the e-mail receipt to anyone who wishes to verify the authenticity of it
OTHER DETAILS :
1) Any regular commission that we have received prior to this will still come first. So those of you who have paid for a $50 commission don't have to worry about being delayed by this.
2) Depending on the demand of these waist-up commissions, we will be slotting people into grouped time-slots. What this means is that, on a first-come first-serve basis, we will be putting people into groups of 5. Each group will have a time-frame given to them as to when their commission(s) will be completed by the latest. These groups and dates will be updated regularly on this journal.
3) We WON'T accept commissions that contain nudity or mature subject matter. (We do in our regular commissions, but these are for charity, so we want to keep it clean.)
4) We retain the rights to the images themselves for reproduction value (online, poster format, in books, etc.)
Thank you for taking the time to read this. To all of those who plan to donate, whether it is through our charity commissions or just on your own, thank you so much. This is going towards a very worthwhile cause at an institution that is a leader in the field of cancer research and patient care. Both Josh and I look forward to working on these commissions!
Also!! Please show your love to
Increase Your Odds
and their
Facebook page
. They do great work and have some awesome advice for living better!! Feel free to also follow my girlfriend on
Twitter
as she will be periodically updating how the training for the 60km walk is going

Take care,
Kendrick Tu