Winding Vine Meaning
: None, used to "fill" a boquet
A vine of many uses! Winding vines are known for uses in the olden days, where a kemata would apply it to stop heavy bleeding. When ground into a paste it can help heal burns and rashes.
Winding Vine Medicinal purposes
: Burn Heal, Hp restoration by 15 points.
Single-use. Non-bankable.
Discovered by
AmPmRm
's Neshki: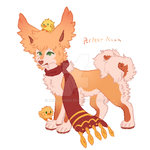 art work by
Hydrana
Image details
Image size
70x69px 4.06 KB