Skeleton Flower Meaning
: A flower sought out during hard and confusing times. Not usually given to others.


A flower that turns translucent when the rain comes. When dry the flower remains white. Many Kematas believe that if you digest it when you're scared, lost, or confused, it will take way those feelings. Often times during rainstorms you will see kematas desperately trying to find it.


Skeleton Flower Medicinal purposes
: None, Placebo effect.

Single-use. Non-bankable.

Discovered by
AmPmRm
's
Neshki: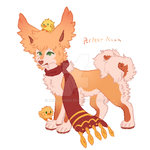 art work by
Hydrana
Image details
Image size
70x69px 4.33 KB