Petunia × atkinsiana
: Passion and Love
This lovely colored petunia is quiet commonly seen around shops, gardens, and parks. Althought it generally has no true purpose for kematas it does encourage bee population to grow.
Phantom Petunia purposes
: Used in love potions. If ingested will increase the users atk by 5 points for one turn.

Single-use. Non-bankable.

Discovered by AmPmRm's Neshki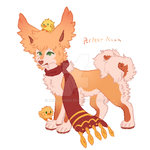 art work by
Hydrana
Image details
Image size
70x69px 3.14 KB