Peace Lily Meaning
: Hope, peace, purity, prosperity, and innocence.
The Peace Lily is often given to those who have lost a loved one recently, it symbolizes the purity of the soul. This flower is hardy in nature and can last several years if taken care of properly.
Dragon Scale Medicinal purposes
: Prevents mold and mold spores from forming, used to keep air fresh.
Single-use. Non-bankable.
Discovered by
AmPmRm
's Chico: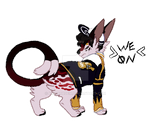 art work by
Hydrana
Image details
Image size
70x69px 4.58 KB