Miracle Blossom Meaning
: Given when a loved one is lost, forgiveness, rebirth


A flower of old times, said to have been the first bloom after Kazan's volcanic flames destroyed all of Val-shenn after the legendary war. The blossoms brought hope to the remaining kematas across the land as they rebuilt from the ground up.
Miracle blossom Medicinal purposes
: Can heal small wounds when ingested, recovers 20 hp.

Single-use. Non-bankable.

Discovered by
AmPmRm
's
Neshki: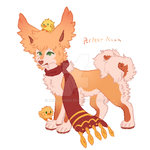 art work by
Hydrana