facebook | tumblr | youtube | twitter | print store


---
Lately, music has really been inspiring my work. I made this piece a while back on one of those pointless late nights when you just feel like being alone. It was one of those nights where I was up late, listening to this song I found and fell in love with, replaying it tirelessly over and over. I remember I was listening to Gabrielle Aplin's,
"Home"
, and it just clicked in my mind.
"Cause they say home, is where your heart is set in stone
Is where you go when you're alone
Is where you go to rest your bones"
The song is about the definition and meaning of home, respective to each person. The sense of belonging to someplace, somewhere, or something important, that we've all got to search and look for a place we can call home. With everything that's been going on, I found the lyrics of the song so enchanting and strangely reassuring. I guess it was me finding a sort of comfort in knowing that everybody faces their own journeys to find something that they can belong to or find meaning in, "
Home
".
---
Some more of my work: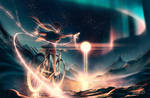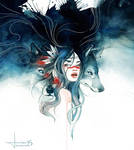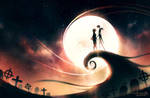 Image details
Image size
772x1154px 784.69 KB