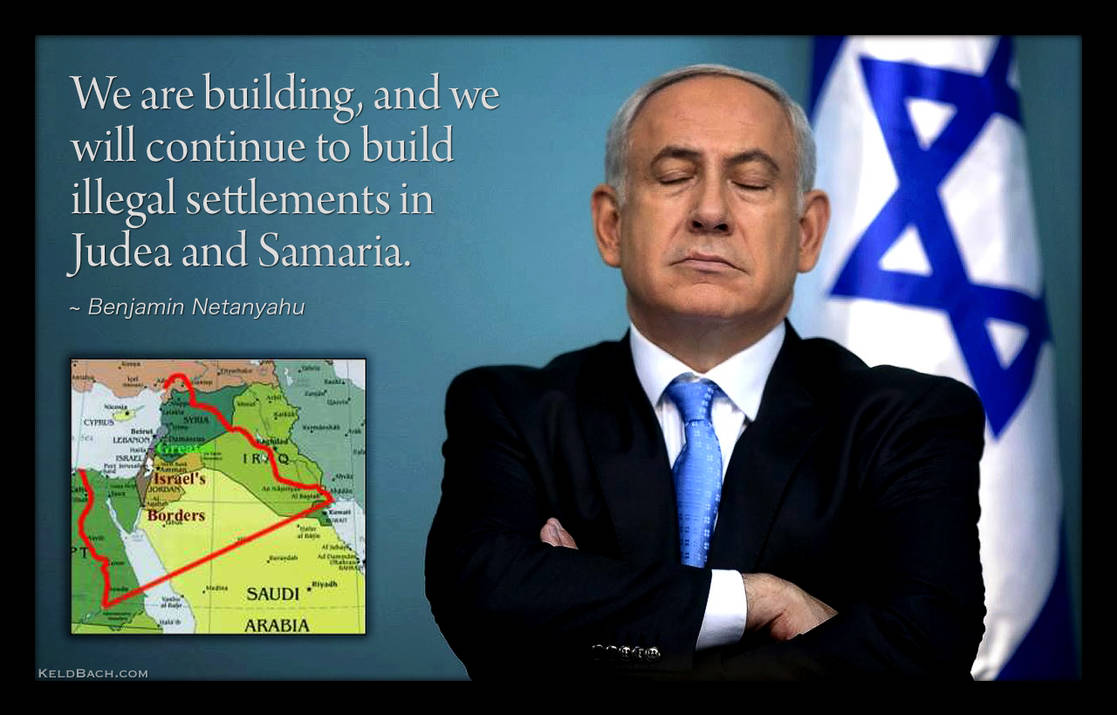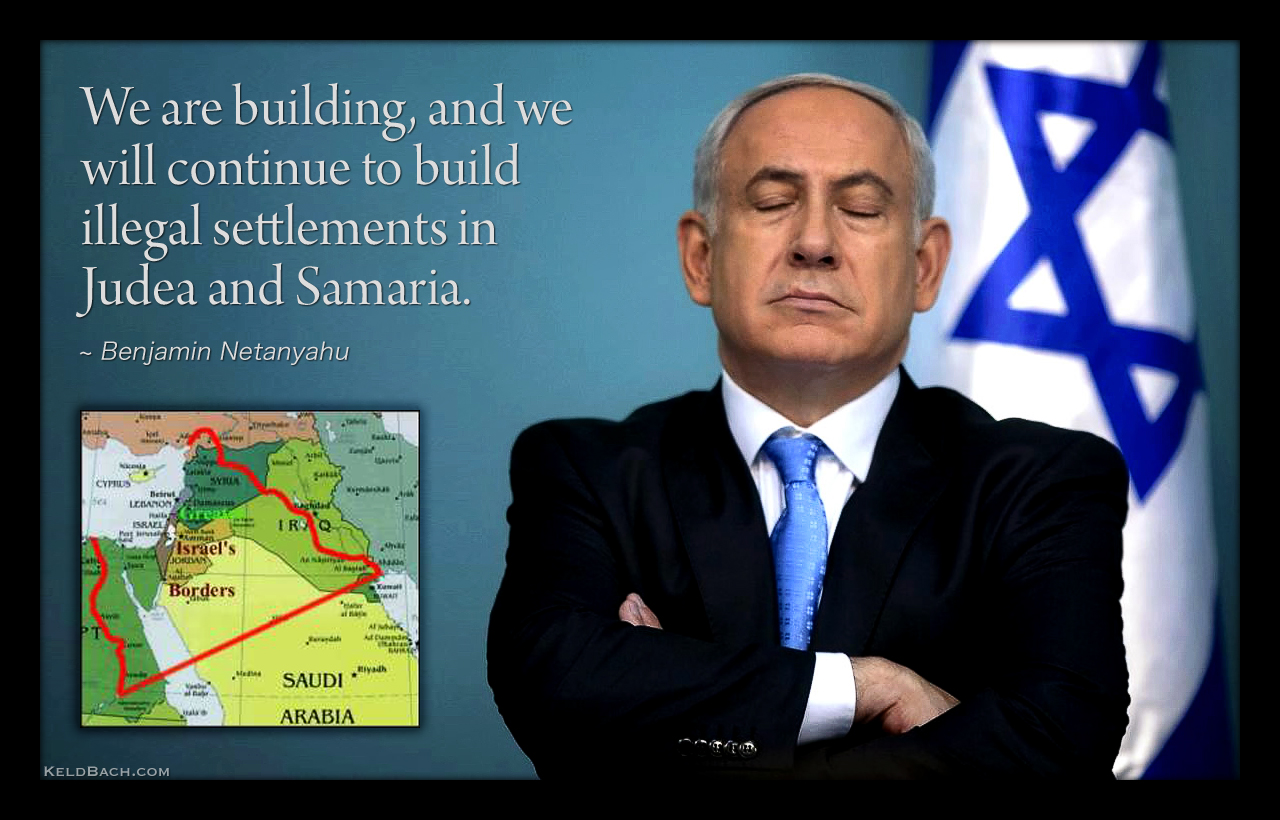 While the presstitute media was busy bashing Trump and demonising Putin, Israeli Prime Minister Benjamin Netanyahu eyed the chance to grab another piece of Palestinian land. The quote is from his public announcement after the Israeli government gave the green light for the construction of approximately 2,500 new homes in Judea and Samaria. The word 'illegal' was, however, added by me, because that's what these settlements are. 'Judea and Samaria' is the Zionist term for the West Bank in Palestine.
All settlements – officially recognised settlements and unauthorised outposts – are illegal under international law. The verdict has been passed numerous times by the United Nations and last month the Security Council (UNSC) adopted yet another resolution that condemns all Jewish communities in this region as "a flagrant violation under international law." Netanyahu responded to the resolution at the time, rejecting it as "shameful" and stating that Israel would not abide by its terms.

In 2016, Israeli authorities had sped up demolishing homes of Palestinians in the occupied territories, rights group B'Tselem reported. Israel demolished 274 homes in the West Bank (excluding East Jerusalem), thereby rendering homeless 1,134 individuals, including 591 minors.

Background image courtesy of Atlantic Sentinel, modified by me.
---
Website
|
Print Shop
|
Portfolio
---

I love how you cherry pick everything.
You said: By the way, Stalin gave the Jews an autonomous state already back in 1934, called
Birobidjan
, so they didn't have to steal Palestinian land for that purpose."
Funny how you left out the part about Benevolent Joe Stalin purging half of the Jews living there and how those remaining couldn't flee even if they wanted to (which I'm sure you thoroughly believe that none them wanted to, since they were living in Jew Candyland according to some pdf you read). But of course, they were eventually allowed to leave -- 30 years later after the purges-- and alot did, but that's all water under the bridge, right?
Man, you crack me up.
Reply

The real face of Judaism.
Reply

I would say Zionism. Not all Jews agree with this expansion policy and many Jews are not even religious. It's more like being a member of a tribe for them. Ultra-Orthodox Jews even say Jews don't have a right to their own country. According to the Torah (Old Testament) Jews were expelled from the 'promised land' (twice, I think) due to bad behaviour and doomed to 'wander in the world forever' by their god.
Reply

The old Testament and the Talmud also openly call for the
"righteousness" of exterminating every non-Jews, man
woman, children, elderly and even their cattle.
www.openbible.info/topics/geno…
Most Orthodox Jews are among the worse of all Jews.
Some Orthodox Jews, often living in Western countries
have indeed different opinions, but the vast majority
supports the displacement of those who, ironically, are
the true descendants of the ancient Hebrews.
Certainly not every single Jew is to be held responsible
for the actions of others because that would mean to
generalize their common responsibility, yet when trying
to forgive the majority for the good will of a few, how does
it differ from a generalization? It does not. We cannot
forgive millions of criminals for the innocence of the minority.
I would propose to re-migrate them all into a land for them,
would it be Palestine or even Madagascar for that matter.
Judaism is the problem for several reasons. Take the good
Jews for instance, they have children. What guarantees us
that their children will not adhere to the authentic doctrine
of Judaism, namely this vicious hatred and justification to
steal, lie and manipulate, as it is prescribed in their texts?
This is the same problem we have with Muslims in Europe
today. The first generations were "integrated". Today many
of their "perfectly integrated" children travel to serve under
the flag of ISIS, Al-Nusra, then come back, radicalized into
our countries.
Zionism didn't exist thousands of years ago, yet Jews already
acted in this same fashion, because it is present in their ideology.
They didn't need the appearance of Zionism to become "monsters",
this doctrine always was.
Reply

So you basically want to exterminate all the world's Jews and peddle the bullshit that "Hitler dindu nuffin whong"

Gotta say, on a scale from 1-10 on shitty narrative. I'd say............. 11
Reply

I love how you assume that he is an "evil neo nazi bigot" without looking into the bigger picture. Or thinking about the possibility that it might be true.
Reply

Explain that to the 20 million dead Russians Hitler peacefully killed with his peaceful Wehrmacht of Peace, his peaceful Luftwaffe of Peace, his peaceful SS of Peace; all of whom used peaceful bullets of Peace shot from peaceful K98's and peaceful MP-40's of Peace to peacefully kill Russian civilians by peacefully shooting them with said bullets of peace.
Reply

I'm sorry weren't we talking about the jews here? Not russians. That event is highly questionable.

Now I don't deny the slaughter of russians or the scorched earth policy, it is true that germany did commit those crimes, but to the holocaust with showers being ''gas chambers'' and ovens for bread as cremation is pure ludicrous.
Reply

I'm mostly concerned about newer times. Without political Zionism and their 'clever' Transfer Agreement with the Nazis, the state of Israel would never have come into existence. In addition you could add that the Holocaust has helped a lot too, allowing the Jews to play the victim's role over and over again.

One positive thing seems to be happening, though. More Jews are now leaving Israel than ever before. Alone in Germany, more than 33,000 Israelis have acquired German citizenship since 2000. And if the one-state solution should become a reality one day, the Jews will probably leave in droves, because the Arabs would then become a majority and the Jewish state would be dead.
Reply

In fact, the Transfer Agreement didn't play a big role
at all. The state of Israel was already seeded by the
British, and under construction. The Transfer Agreement
came only much later. As for the holocaust serving
them to play to victim's card, Jews already played the
6.000.000 victim card long before the National Socialists
even existed:

The First Holocaust : The Origin of the 6 millions
EDIT: THE LINK TO "Six Million Open Gates" PDF FINALLY WORKS!
PLEASE DOWNLOAD AND SHARE!
The First Holocaust The Surprising Origin of the Six-Million Figure(PDF):
http://holocausthandbooks.com/dl/06-tfh.pdf
Larger list of 278 entries about 6 million Jews between 1900 and 1945:
http://winstonsmithministryoftruth.blogspot.be/2012/02/145-references-to-6000000-jews-prior-to.html?zx=be6fc1d5e4285b07
Six Million Open Gates (ORIGINAL ARTICLES):
http://www.holocausthandbooks.com/dl/SixMillionOpenGates.pdf
https://ia800308.us.archive.org/28/items/sixsixsix/book.pdf
Visit HolocaustHandbooks.com:
http://holocausthandbooks.com/
This video demonstrated irrefutably how the "6.000.000 exterminated
Jews" claim is preposterous and is found back as far as the mid 1800's.
We will discover, by looking at original articles how this scam was used
to further Jewish Zionist interests, with the purpose of draining massive
amounts of money, and went as far as to promote Bolshevism. The main

The problem is that Jews did not accept Madagascar.
This plan would have solved a lot of things.
Reply

I've heard about the 'mythological' number of 6 millions before, but I thought the actual number from WW2 had been reduced long time ago. At the Auschwitz Museum in Poland they corrected the number of dead many years ago from 4.5 mil to 1.2 (if I remember correctly), and I've also seen an article based on data from the Jewish World Organisation and International Red Cross estimating the total number of perished Jews to about 1.5 mil. Is that not correct?
By the way, Stalin gave the Jews an autonomous state already back in 1934, called
Birobidjan
, so they didn't have to steal Palestinian land for that purpose. And if that wasn't enough, I'm sure the Americans would gladly spare them a piece of land somewhere out in the Wild West.
Reply

Indeed. In fact the Red Cross numbers are even lower,
totaling a few hundred thousands of victims, not all Jews
by the way. Yet the official Jewish lobbyist version always
remains 6.000.000. This is the magic of Jewish stories.
We really shouldn't be surprised. Jews managed to make
millions of people believe they had a person named Moses
who presumably split the sea in two with a rod. People
capable of believing such lies will obviously lack the necessary
vision required to see through the holocaust scam, which
is way more subtle.

Yes indeed, the Jewish Oblast far away in Russia, close to
China. Like I stated, they were also proposed Madagascar.
They want to fulfill their Greater Israel project. They see it
as the center of the world. A perfect place to rule all continents.
Reply

I don't know which is worse: the Jews' detestable exploitation of their own tragedy, or their inhuman treatment of Arabs and other non-Jews. Norman Finkelstein wrote a very important book about the first topic, called
The Holocaust Industry
, and Jack Bernstein wrote an equally interesting book about the second, called
The Life of an American Jew in Racist Marxist Israel
. Both can be downloaded in pdf format and are highly recommended reading. Perhaps you already know them.
Reply
(1 Reply)

Reply

Jews are the native people of Israel. Palestine has never existed.
Reply

Jews/Hebrews originated in Iraq/Babylon not Palestine/Canaan. I have a map of Palestine from 1851, do you have a map of israel prior to 1948?
Reply

The commenter above is absolutely right about the origin of the Jews/hebrews. But the topic here is actually about the illegal occupation of Arab land, the continued demolition of Arab housing and the intensified illegal settlements in the West Bank. In addition to the construction of 2,500 new homes (mentioned in my comments above),
the Israeli regime has furthermore approved the construction of over 6,000 new housing units to be built throughout the Occupied Palestinian territories. Please stick to this topic if you have anything more to say.
Reply

If Gaza and the West Bank want to have peace with Israel then it's up to them. Israel has tried to negotiate peace by giving up land to the West Bank but that's not good enough for them. They want the complete state of Israel gone, and that just isn't going to happen. Jews are the natives of Israel. That is Jewish land.
www.gatestoneinstitute.org/614…
Reply

Sure, sure, I have heard all this
Hasbara nonsense
many times before. If the Jews want peace, they should either start adhering to international laws or go back to where they came from. If it wasn't for the Americans, they would have been gone long time ago anyway.
Reply

"www.aish.com"

...lol, is that a joke?
Reply

The only joke is the apparent "research" you do.
Reply

You just tried to claim that "Jews are the native people of Israel." and that "Palestine has never existed."... You are completely clueless.
Reply

Not the Ashkenazi Jews of today. They came mostly from Russia and Eastern Europe.
Reply

The Mizrahi Jews have been there since Biblical times. Judaism originates from the Middle East and whilst some Jews moved to Europe (now the Ashkenazi Jews), there are still Mizrahi Jews in Israel - and all over the Middle East actually - that have been there from the start.
Reply

I know, but they don't claim the right to the land. Besides, they are treated just as badly as any other non-Jews. They are regarded 2nd class citizens or Goyim, if you will.
Reply

They only claim the right to the land as Jewish people. Also, they are not treated as second class citizens. They are treated as any other Israeli. 20% of Israels population is Arab and as long as they're Israeli, they are treated equal to any Jewish Israeli.
Reply

Reply

If USA signs a peace agreement in June of this year, it starts the 7 year period of tribulation. If the USA doesn't sign it now, we are ok, but Israel has always done things their own way. Just remember there will be a peace accord sometime in the future. Peace, peace and there will be no peace.
Reply

Those so-called 'peace talks' only serve for the politicians to say: At least we tried. They were never meant to give back the land to the Palestinians or to solve any problems in this regard.
Reply

these egoistic people will kill our world...
Reply