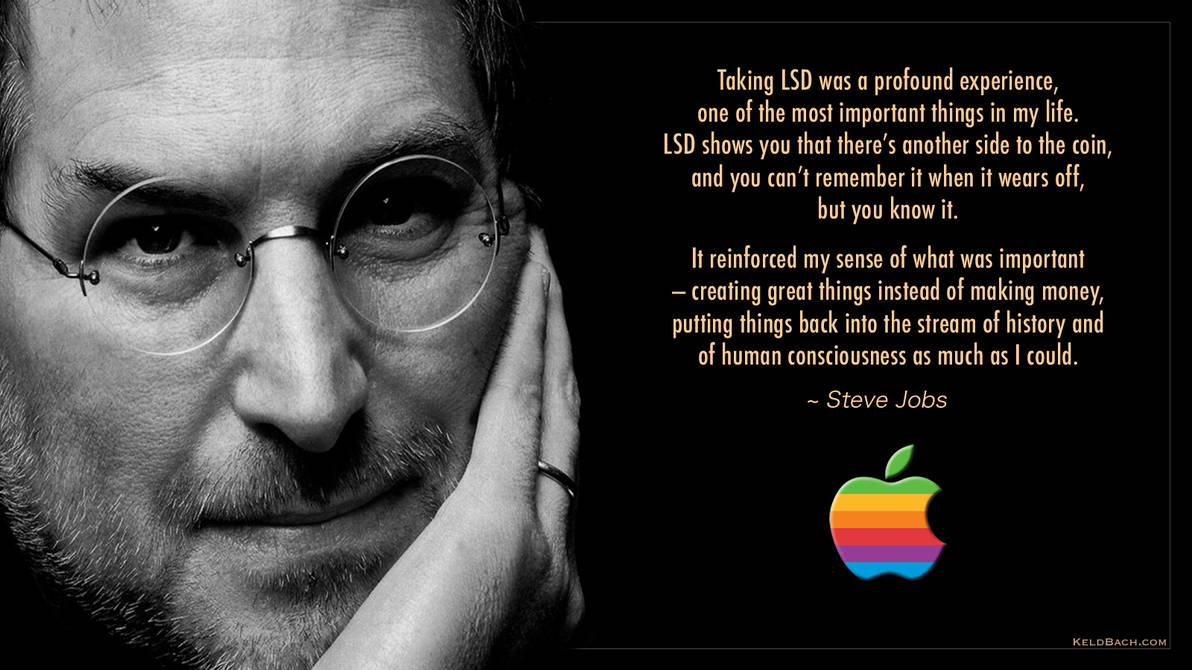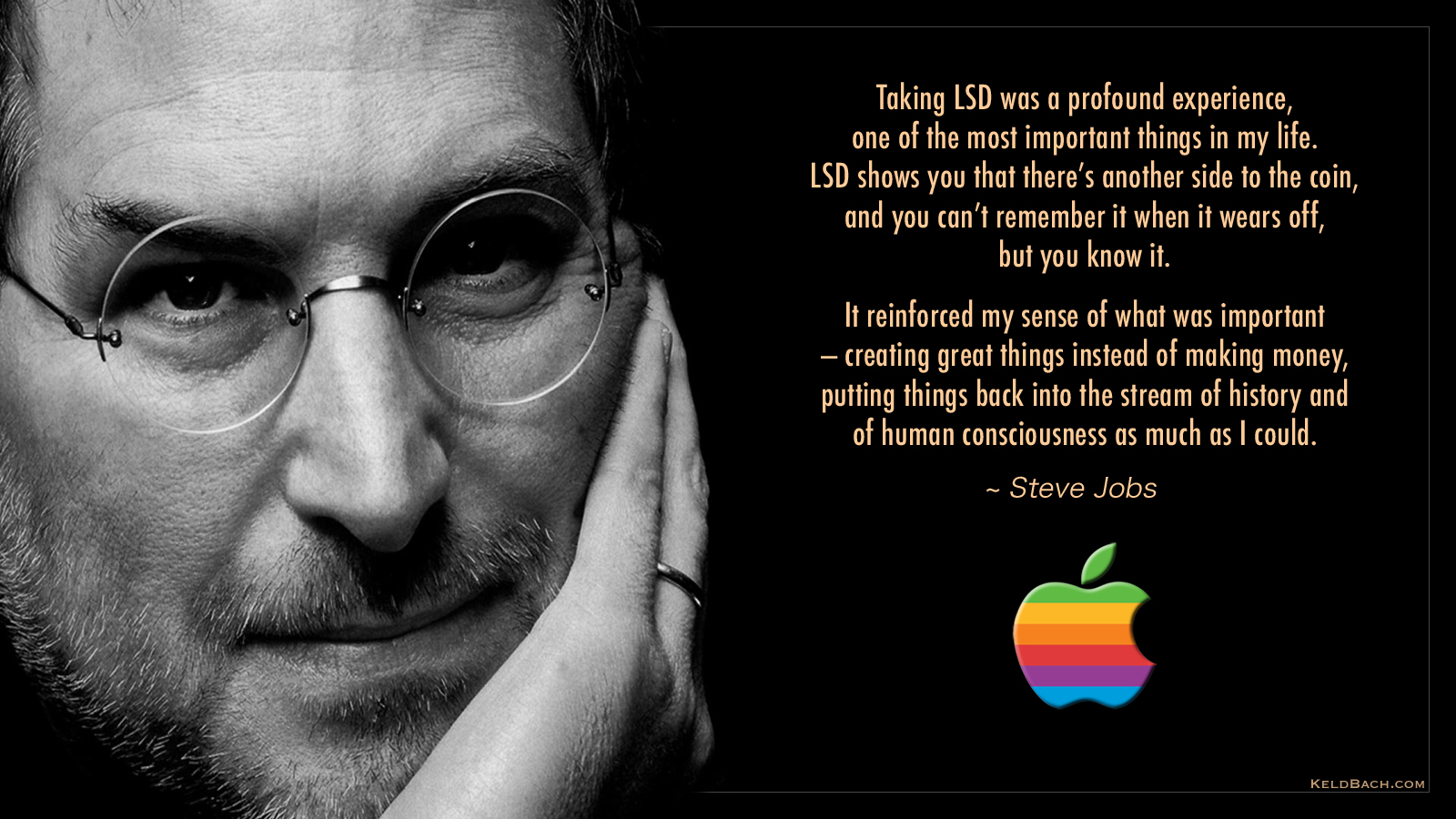 Background image courtesy of Apple's photo archive, modified by me. Here's another Steve Jobs quote:

"The ones who are crazy enough to think that they can change the world, are the ones who do."
---
Website | Print Shop | Portfolio

---

"The real physical damage associated with LSD comes from what can happen when someone loses inhibitions and has poor judgment, skewed perceptions or a sense of immortality while tripping. LSD users have accidentally killed themselves by walking in front of a car, falling from windows or buildings, or by making the mistake of driving while altered."(howstuffworks, n.d).
Reply

This article did not specify that people who are not unstable will be immune to side effects. I agree with the article that lsd is fine when taken in the prescence of an expert and watched while the drug is in effect.
Reply

I bet you can count the number of very successful CEO's who consider LSD a major influence on one finger.

Reply

Sure, Steve Jobs was a very unique and visionary man. Unfortunately, it seems that Apple has become more interested in making money, instead of creating great things. I have been a Mac user since 1990 and always appreciated the cool designs and user-friendly functions in every product, but today the OS and Apple's builtin programs have become overloaded with tons of useless or fancy features.
Anyway, even I'm not a great Mac fan any longer, I couldn't imagine switching to the PC

Reply

I, coincidently, have been an Apple user since 1990 as well. (High five?)
Despite the fact that, yeah, the macOS and iOS people seem more interested in
whatever new, and often unneeded, features they think we need, instead of
improving many of the old features on software we use every day, I still think,
on many levels, Apple is responsible for so many awesome tech products that I,
like you, wouldn't even think of switching to a PC type computer!
(How's that for a sentence?)

Reply

The effects created by medicinal means can be duplicated and achieved just as well by mental means. Cheaper too.
Reply

Like the breathing techniques developed by Stanislav Grof?
Reply

Yes, and those of Tibetan monks, and others.

I studied a lot of that sort of stuff when younger, so I can do it for awhile when I keep my mind on it. It's fun trick to raise your body temperature or freak out the doctor with a weird heart rate or strange biochemistry. My father taught me some of it, but our family doctor was Chinese and taught me how to meditate in order to prevent "cluster headaches", and I've taught my son since.
Reply

Very interesting. I have practised TM (Transcendental Meditation) for many years and can do some of the same 'tricks'. However, I'm missing the psycho-active (psychedelic) effects that LSD, Psilocybin and similar drugs can provide. In other words, it doesn't seem to stimulate the senses nearly as much, if at all. Is that also your experience?
Reply

If you have ever experienced the effect, it's possible to recall that and repeat it. The body has amazing capabilities as a chemical factory, but also the placebo effect is real because much of what we 'believe' strongly influences how we react to a chemical. For some practice, you could duplicate the effect of alcohol or a cold medicine or marijuana.

Going further, try 'seeing' outside your regular assumed visual spectrum. Try seeing heat, for example.
Reply

Thanks for the advice, but such practices would contradict the essence of TM which is basically a technique to empty the mind from all thought or mental activity. As soon as I start focusing on something, I immediately leave the meditative state and go back to normal. I suppose you're talking about an additional technique, different from meditation. Is that correct?
Reply

Well, actually I practice meditation and there are many techniques. Perhaps you're limited by a paradigm that you need to break out of, which is really difficult of course, and replace that paradigm consciously with a paradigm of your choice and convenience in order to expand those horizons. Change the paradigm.
Reply