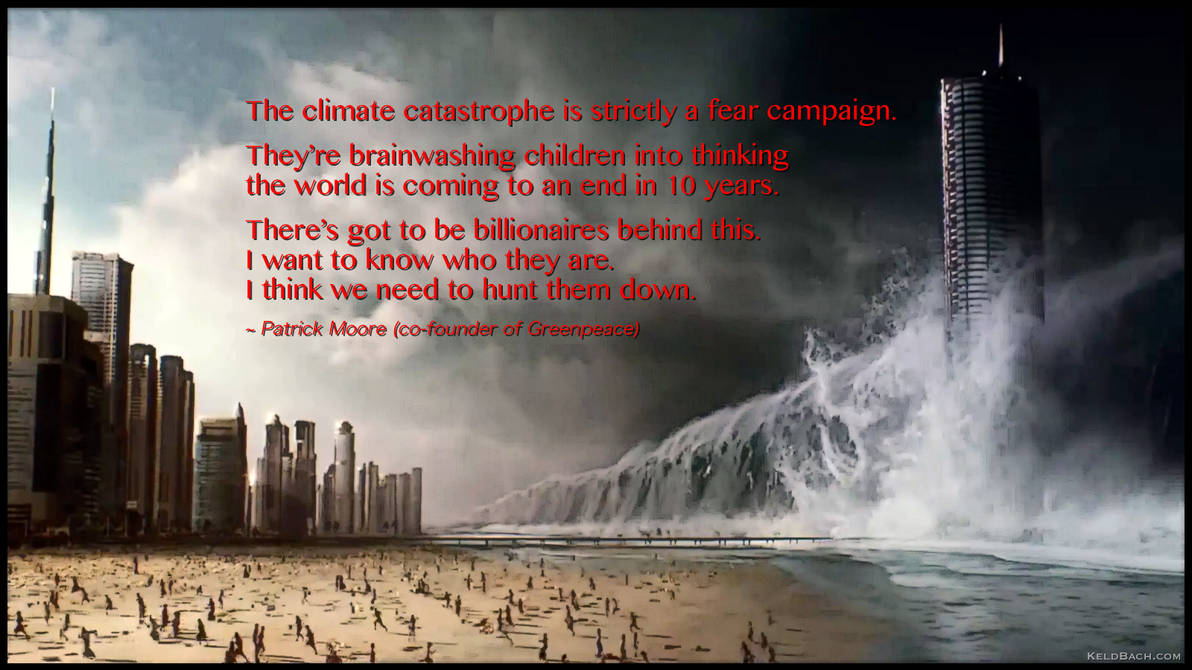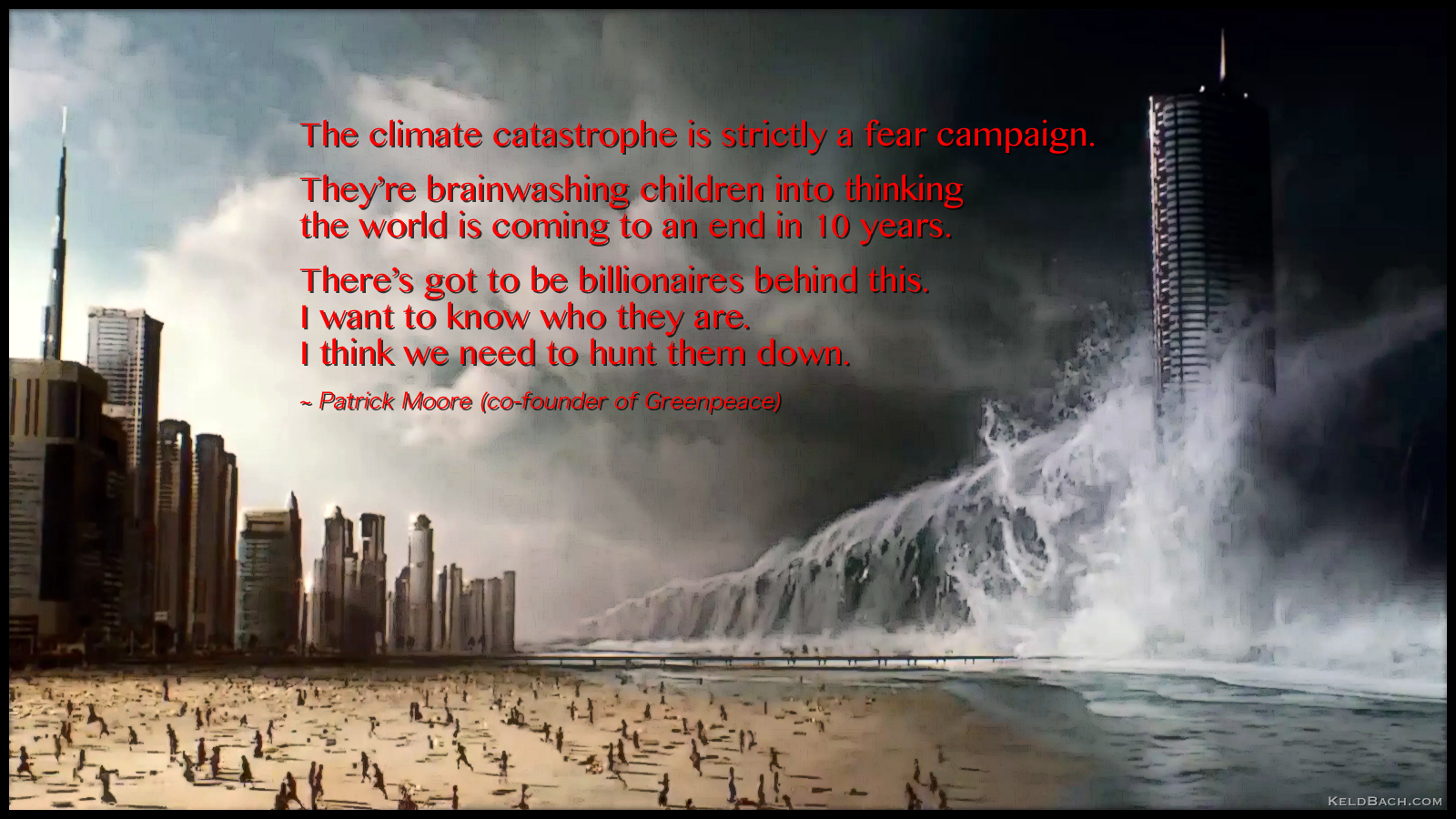 Greenpeace co-founder Patrick Moore had harsh words for the modern environmental movement, calling global warming "the greatest scam in history" and denouncing the use of "fear and guilt" to push the message:
"The climate catastrophe is strictly a fear campaign – well, fear and guilt," Moore told
Breitbart
radio host Rebecca Mansour. "You're afraid you're killing your children because you're driving them in your SUV and emitting carbon dioxide into the atmosphere and you feel guilty for doing that. There's no stronger motivation than those two." Listen to the full interview
here
.
Background image by unknown artist, modified by me.
Related:
Patrick Moore: The Truth About CO2
---
Website
|
Prints
|
Portfolio
---

Where I live, we are experiencing climate change right now..... last month we had 3 weeks of temps falling between -8F to 28F and next week it will be around 60F .... I believe they call it Spring



..... LOL
Reply

Yeah, that's what we use to call Seasons

Sorry, just joking. Climate Change is indeed happening, and it's happening all the time. The question is: Is it man-made and if so, can we do something or anything about it? I think only very little. What do you think?
Reply

I can not believe it is man made. There are studies of ice core samples that show the Earth warms up approximately every 100,000 years; and we are now in that cycle. Here is a link to one of those studies that includes, not only the rise in temps, but also the rise in CO2 and CH4 for the last 400,000 years based on glacier ice core samples. Not a lot of humans around making CO2 than:---

Reply

I checked out the article and just wanted to point out one thing. Even the curves for temperature, methane and carbon dioxide seem to match very well, it's important to know that both the CH4 and CO2 curves lack somewhat behind the temperature curve (not visible in the graph). This means it's actually the temperature that causes the CO2 and CH4 amounts to rise and not the other way around. In other words; carbon dioxide is NOT to be blamed for Global Warming as we are told! Most people don't realise that.
Reply

Yes the temps seems to rise b/4 the gases increase.... here is a better graph showing that :
Also a report, just published in 2018, shows there is a 400k cycle when it comes to earth's orbit that plays with the climate. "Scientists drilling deep into ancient rocks in the Arizona desert say they have documented a gradual shift in Earth's orbit that repeats regularly every 405,000 years, playing a role in natural climate swings."
phys.org/news/2018-05-ancient-…
Reply

Thanks for the link. I will take a closer look a little later

Reply

I think Will is correct here..............I can SEE the planet dying. We lose hundreds and thousands of plants/insects/animals each day.
Sri Lanka used to be a haven for butterfly's I see very few now! Why?????????????

Reply

"We lose hundreds and thousands of plants/insects/animals each day."

How do we lose them?
Reply

Insecticides/over population!
Reply

Yes, and that's a much bigger problem than Climate Change, I believe. It's a global catastrophe, mainly caused by the extensive use of pesticides and herbicides, besides air pollution and various toxic industrial waste. There used to be plenty of
Wild Birds
in my local area, but today they're all gone, except for a few Gulls and Jackdaws. Also WiFi seems to be a problem for many insects, e.g. Bees get confused and can't find their way back to the hives any longer.
Sorry if we disagree, Jenny, but that's just my two cents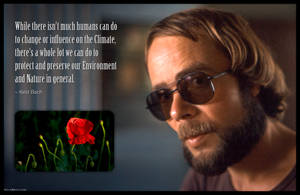 Reply

Oh.............I didn't know about wi-fi!!!!!!!!! Makes a lot of sense. Insects are so finely tuned!
As for pesticides.............I can smell them from kilometers away. There is something 'sweet' smelling about them! I am not a sugar/sweet person which is why I can smell it.
If the planet disintigrates we are just another arid place in the Universe!!!!!!!!!!
A lot of us have kids/grandkids and we care what our kids are going to inherit.
SICKENING.........Money.......money.......money!

Reply

Reply

Having worked on the first Rainbow Warrior, back in '78-82 I wouldn't now give Greenpeace the time of day. Back then, they were great, but through the 2000 'till today they are run by money, corporate money.
Reply

Interesting, Will. I worked as a volunteer at the Greenpeace office in Copenhagen in the late 70s whenever I had a little time, but today Greenpeace has been taken over by Big Oil and other corporations who like to call themselves 'green'. That's also one of the reasons why Patrick Moore left the organisation some years ago. Very sad story indeed.
Reply

Patrick was kicked out because of his anti-climate change stance.
These days he's a paid spokesman for the nuclear industry, the logging industry, and genetic engineering industry, and is an outspoken proponent of nuclear energy and sceptical of human activity as the main cause for global warming.
Read my note.
BTW, the late Dave McTaggart is the founder of Greenpeace.
Reply

Just to cut the discussion short, Will: I agree with Moore that human activity is not the main cause for Climate Change. There are much stronger forces out there.
I disagree with some of his solutions to future energy forms because they would harm the environment immensely. Unfortunately, I don't have any better alternative ideas as to what should replace fossil energy forms. Just waiting for some
Unknown Genius
to come by and save our asses

Reply