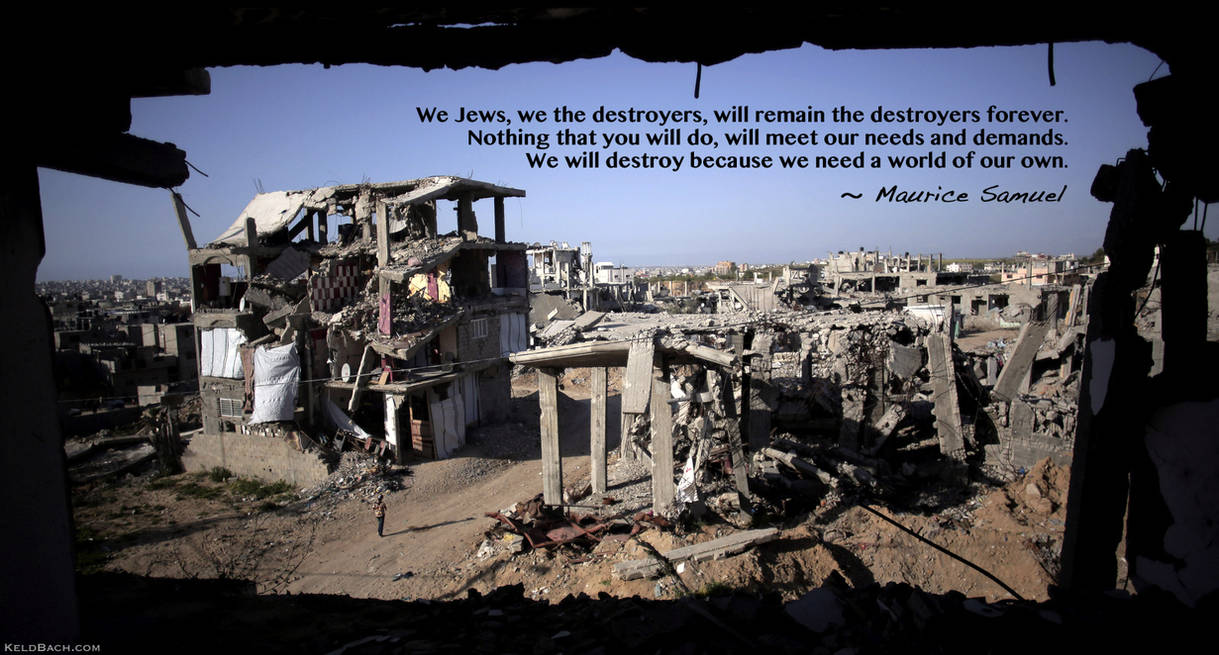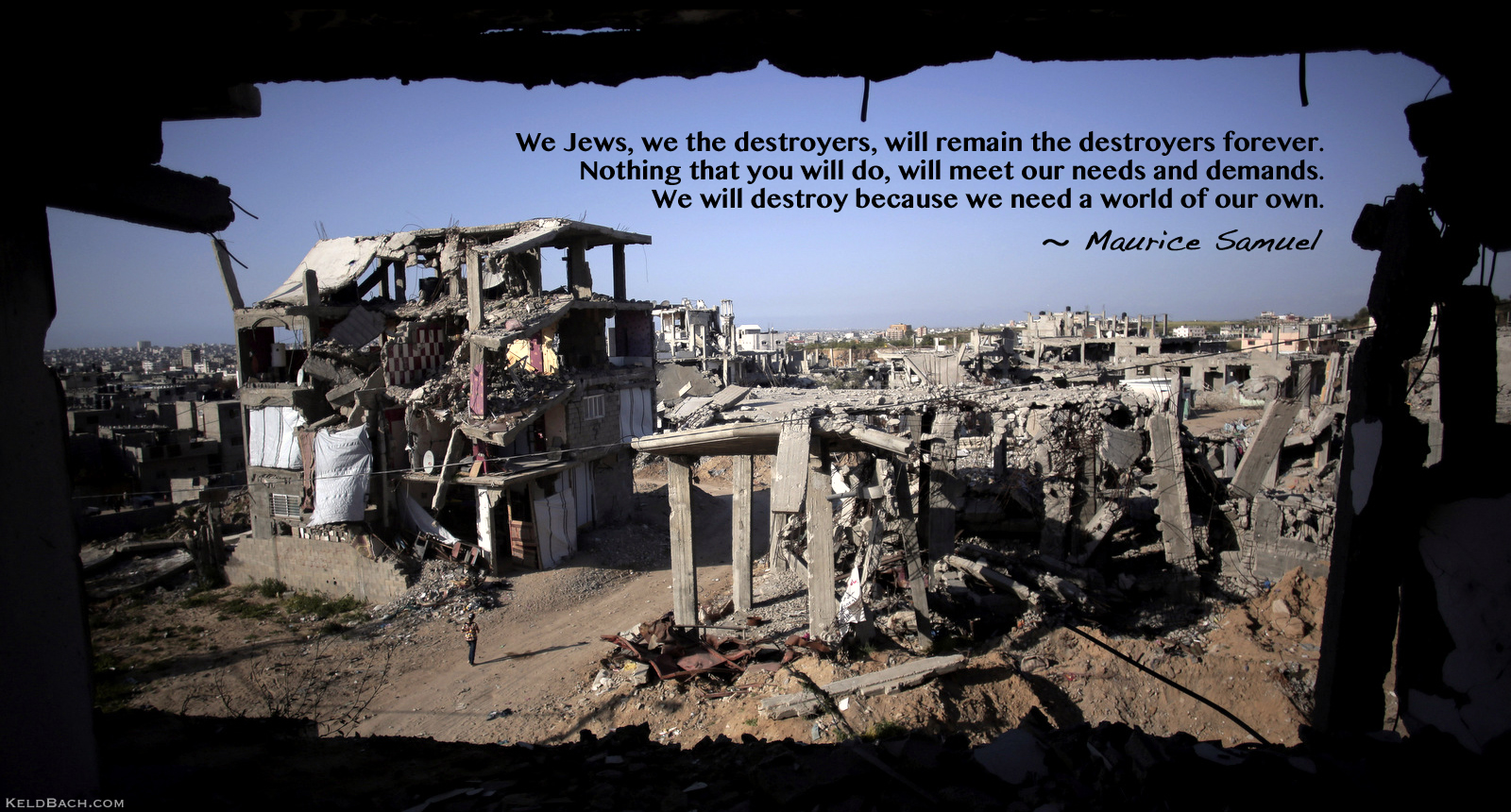 A little disingenuous, don't you think? The skyline in the background is undamaged. And besides, these aren't random/blanket strikes like in WWII. If you or I were willing to spend an hour researching we'd read what hamas was doing there (storing ammunition or storing arms or storing rockets or secondary or tertiary command HQ or better yet, they were firing rockets from that position).
The palestinians have had numerous chances for a real and lasting peace with concessions (land) from the jews, but hamas/Arafat want(ed) nothing of it. They want perpetual war, because that brings in the $$$$. You can't get rich if you are at peace with your neighbor.
And lets be honest, who starts all this almost every time?
"On March 14, just hours after two rockets were fired at Tel Aviv, Israel hit around 100 targets in Gaza, including an underground rocket ..."


"Hamas chief says Israel 'got the message'...."

Gee, I wonder who could it be...
I've never really understood jew hate. I guess you have to be raised that way.

Reply

"The skyline in the background is undamaged." Yes, still something left to be destroyed! Why don't you comment on the utterly racist and dehumanising quote instead? That's what this piece is about.
Reply

>>>"The skyline in the background is undamaged." Yes, still something left to be destroyed!"
I think you meant to say, "Yes, the buildings were not indiscriminately attacked as the picture implies!"

>>>Why don't you comment on the utterly racist and dehumanising quote instead
I tend to ignore 'shock' or 'damning' quotes used in both RIGHT/LEFT memes, since 90% of the time they are taken entirely out of context.* If this quote is stating something sinister, as you are implying, then Samuels is the jew version of David Duke.

Or in other words, like David Duke, he is some random fringe guy that has 0% effect on govt. policy and how the world is governed.

If, on the otherhand, the quote is taken out of context from an essay about how white Europeans have for the last 800 years sh*t on Jews in one form or another, and that jews need to return to their homeland, then your meme is disingenuous.

Either way, I don't know the context and I'm not going to spend time finding out, mostly because the quote is from a book written in 1924.

Wow, almost 100 years ago, some random jew may or may not have said something that proves some right/left wing conspiracy theory revolving around a zionist overlord government. Really? I mean, who cares. If there really was such a plan, it couldn't have been that great of a plan if Hitler and Stalin trashed it less than 10 years.
Life is short my friend. I wouldn't waste it on chasing some imaginary jew bogeyman.

*(One of the memes the Right constantly trots out features the mayor of London's 'Part and Parcel' quote. It drives me crazy. I am in no way a fan of the mayor, but in all fairness, the creators of that meme twisted and cherry-picked his words into something he did not say. And to be fair again, I'm sure most people sharing that meme and its 20+ variations are just parroting what they've read and heard without spending 20 seconds to read the interview where the quote originated. If you lie to win people over to your point of view, then you have already lost the battle.)

Reply

Problem nowadays (has been forever) no-one can say anything against the Jewish race without being called ant-semitic..
This is a dangerous precedent I think.
In most races/religions ther are always ultra-orthodox people who seem to have no empathy at all.
Waiting for the elections but I doubt much will change.

Reply

Reply

Just requested this for our Group. I expect some 'fall out' but sometimes we have to open our mouths and say what we feel.
Reply

Thank you, Jenny

Don't worry about the 'fall out'. I always lose a few watchers when I post something critical of Israel, but I couldn't care less. Zionism is the REAl problem. Not only for the Arabs/Palestinians, but also for the Jews themselves and perhaps for all humanity. See this when you have the time:
ZIONISM, THE REAL ENEMY OF THE JEWS
Reply

Looks like a good Book. I like the idea of it being against ant-semitism. But stressing the fact that Zionists are controlling and unabashedly racist.
Reply
Not all Jews are bad people, far from that, but in my opinion, there is a problem with the Jewish religion and culture. When you consider yourself ans the "chosen people", there is a serious issue. An unacceptable form of supremacy, with serious consequences...
Reply

No, they are certainly not all bad people. I have met a few fine Israelis who strongly disagreed with the policy of the Jewish state

Reply