Actually, it's a Guanaco (Lama guanicoe). Llamas are domesticated Guanacos and are not found in the wild. Picture taken at the Copenhagen Zoo. Snip from Wiki:
en.wikipedia.org/wiki/Guanaco
"The guanaco is native to the arid, mountainous regions of South America. Guanacos are found in the altiplano of Peru, Bolivia, Ecuador, Colombia, Chile and Argentina. In Chile and Argentina, they are more numerous in Patagonian regions, in places like the Torres del Paine National Park, and Isla Grande de Tierra del Fuego. In these areas they have more robust populations, since there are limitations on grazing competition from livestock. Bolivian Indians have been known to raise guanacos to help them regain their population stability. A guanaco typical life span is 20 to 25 years."
See also this profile shot: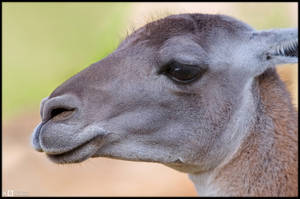 ---
Website
|
Portfolio
|
Prints