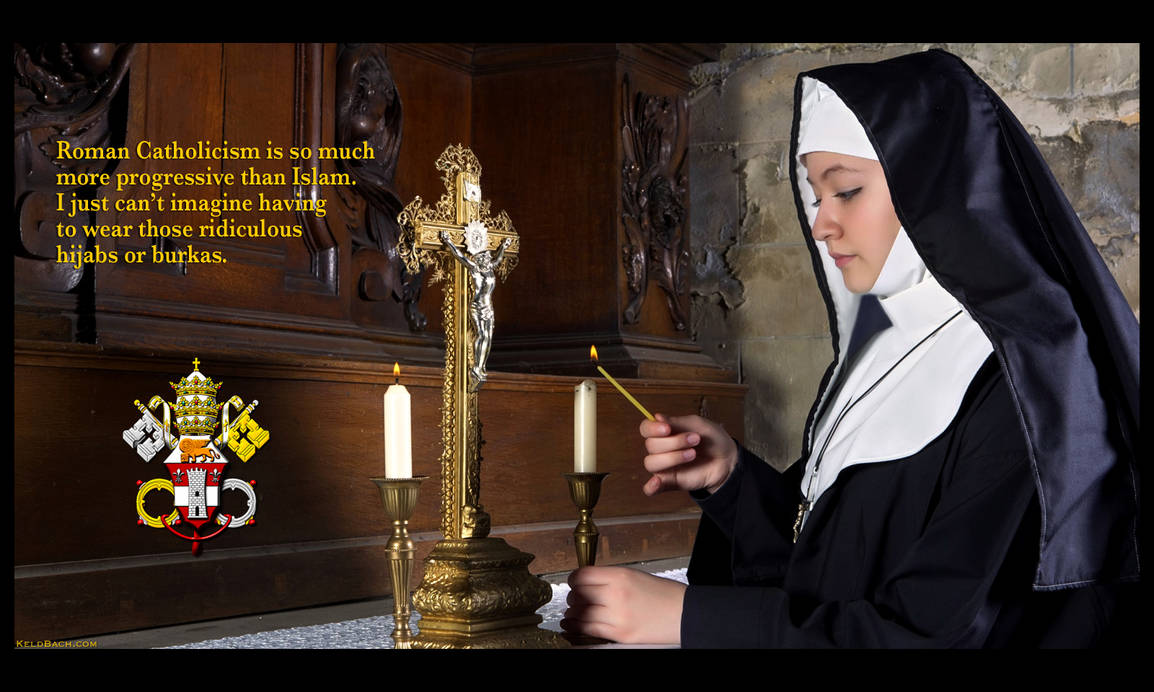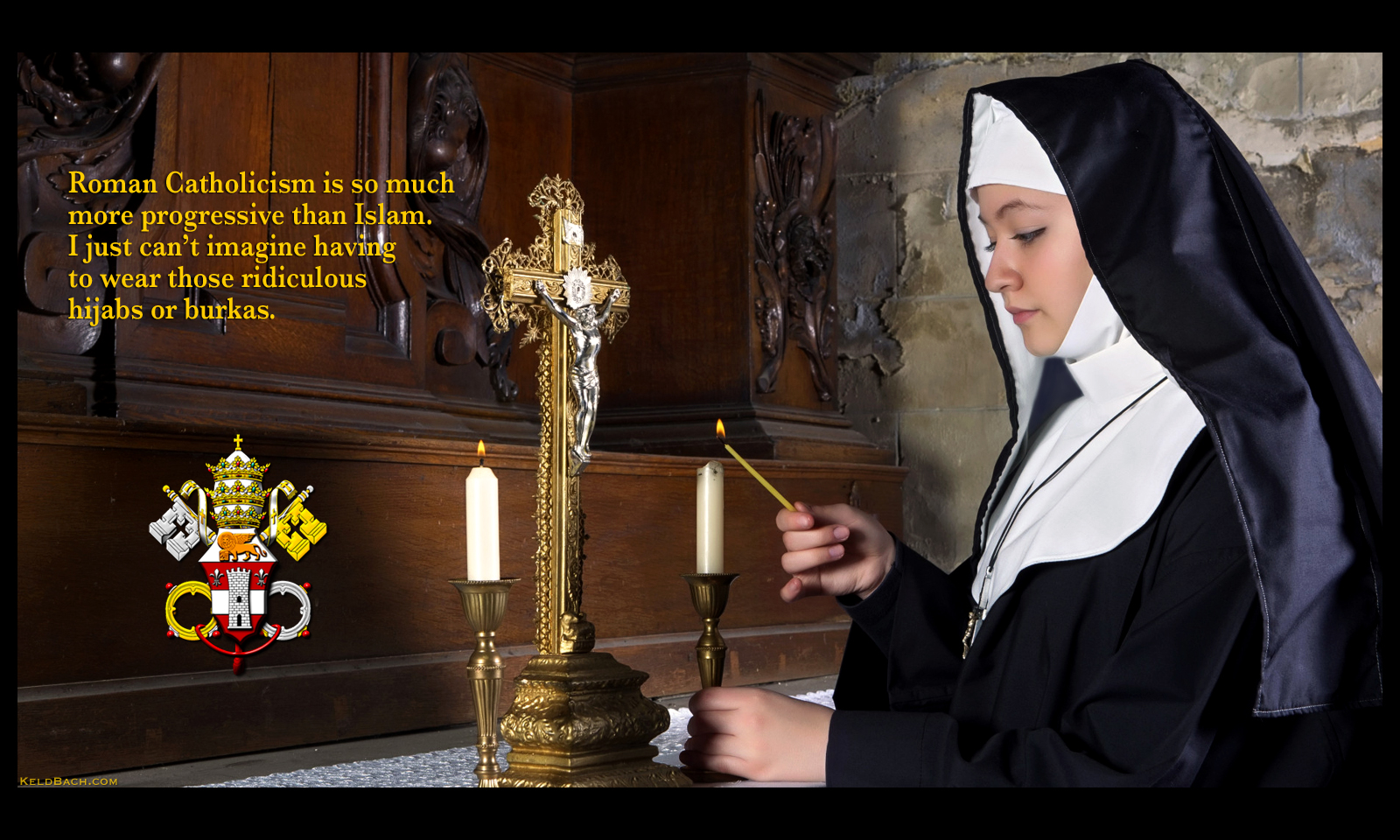 I suppose the image speaks for itself.
Background image courtesy of Huffington Post, modified by me.

---
Website
|
Print Shop
|
Portfolio
---

Catholicism is grand, the original church*



*(I'm not here to start a flame war just posting my opinion k, k.)
Reply

Don't forget that she wears it because she chose it and wanted it, unlike the islam women, who are killed if they refuse the hijab.
Reply

Thank you very much for this comment, and for the graphic pointing out the double standards applied to religious modesty!

Although the folks here likely mean well, the ignorance in this comments section is a little unsettling...
Reply

You're most welcome, Yussra. Good to see you here again

Reply

You too! I'm sorry I've been missing! My semester got heavy for a stretch. I remember we were talking before about the situation in Syria and the White Helmets. I saw that Netflix had a documentary about them recently (I haven't watched it though), and I thought of you.
How've you been? Lots has happened in the world since the last time we talked!
Reply

Thanks Yussra, I'm doing just fine. And yes, a lot of things have happened in the world since we last talked, but I guess it'll be too much to try and catch up with everything. Regarding the White Helmets, they even won an Oscar for their short documentary film and I'll have to say that they are good actors at least. The problem, as I see it, is that they are closely affiliated with al-Nusra Front (now called al-Sham) and only operate in terrorist controlled areas. They don't care about other civilians at all. I have posted several journals about them on dA and if you have the time, check out some of the links below this poster:
I know you don't like Assad, and from your experiences I can understand why, but in my opinion he's the only one who can keep the country together and he does have a strong support from a large majority of his people. Whatever happens after the war is entirely up to the Syrian people and nobody else. I hope this madness will stop soon and the sooner the better. Here's a good source to keep up with what's happening in Syria and elsewhere in the ME:
Al Masdar News
.
Hope things are fine with you too, and keep fighting for what you believe in and stand for. Take care

Reply

Ah, interesting. The situation is too complex and faraway for me to form an opinion I can trust, but I find that in war, it is often the case, unfortunately, that no group involved is truly free of having blood on their hands, so I wouldn't be surprised to hear that the documentary is misleading.
Yes, I despise Assad, because I believe he is an agent of genocide. I remember last time you were saying you didn't believe Assad was really barrel bombing his own people, because it would be political suicide for him, but there's no such thing as political suicide when one is a dictator. Having said that, you keep up with the news much more than I do, and you know to avoid the manipulative mainstream sources. I, on the other hand, tend to avoid global news altogether, because it makes me feel helplessly sad. That's why I have chosen to fight local. By working on the problems that surround me, I can be more confident that I understand the issues at hand and am not inadvertently supporting something terrible. Lately, I have been doing a lot of writing and speaking about Islamophobia. It's the first step to peace. The people around me give me hope.
You as well! Thank you very much for being so engaged.

Reply

To me Assad is just another political leader whom the US think should be removed like they did Saddam Hussein and Muammar Gaddafi. First the vilifying and demonisation, sometimes to an absurd level, and when they have gained enough public support (thanks to the MSM), they send in the military to finish the job. But I don't think they will succeed this time in Syria, because Russia and Iran are strongly involved. They will remain even after the terrorists have been defeated and make sure a democratic process will take place to decide the future of Syria. Or at least, so I hope.
Anyway, it's probably a good idea for you to concentrate your fight on a local level. Islamophobia is nothing new in the Western world, but it has certainly intensified ever since 9/11. Again, thanks to the MSM, some people do actually think that every single Muslim is a potential terrorist threat, so you have quite some work to do. Wishing you the best of luck, Yussra, and hope to see you here another time

Reply
(1 Reply)

I was sure about it

it's not good anyway. However, just recently a women refusing hijab was killed in Saudi Arabia(?), and many of them said that they are forced to wear it. Time will sort it out, hopefully.
Reply

It's true that, unfortunately, some women are forced to wear it, but in countries where the hijab is enforced, the government is very corrupt and not following the teachings of Islam. In Islam, the hijab is the personal choice of every woman, and enforcing it is against our religion.
Reply

Oh yes, in Saudi Arabia and other Gulf states it's a very different story

Reply

The hypocrisy is sickening.
Reply

agreed with the message, but at least for chri$$tains the reason is not that risk to be raped / stoned / first raped then stoned, if they don't...

Reply

Hey, Muslim woman here. I hope you realize that is definitely not why the grand majority of Muslim women wear the hijab. We cover because our modesty liberates us from the reduction of women to "pretty things to look at." If you're referring in your comment to the despicable treatment of some Muslim women in Afghanistan, know that practices there defy Islamic teachings a million times over.
Reply

"we cover because our modesty liberates us from the reduction of women to pretty things to look at"
well if that's your whole point, why not just wear something less prejudiced and less related to religion?
for example, a nice parka?

"know that practices there defy Islamic teachings a million times over"
1.) i wasn't just referring to afghanistan, but basically to any country calling itself "islamic" (especially saudi-barbaria)
2.) yknow i think it is funny that exactly those would probably say the very same thing ("it defies islamic teaching") about your approach...
Reply

I'm not sure what you mean by prejudiced; be careful not to conflate various Middle Eastern/Central Asian cultures and politics with the global religion of Islam. It's a common mistake. And we
want
our modesty to be related to our religion... We're Muslim!
1) That's a rude term for an entire nation of peoples, but yes, the corrupt Saudi Arabian government also unfortunately enforces the veil, despite the fact that doing so is against our faith.
2) I don't care what an uniformed minority of Muslims have to say about "my" approach, as it's not mine, but rather the mainstream Islamic view, following the actual teachings of the faith.

Take care!
Reply

sorry, english is not my native language... "prejudiced" was the wrong word.
what i meant to say was, islam is a theme "emotionally charged".
so - even if i do not agree with your points at all, and even if i don't believe you are speaking for all muslim women here - on the one hand i applaud the proud way in which you stay to your position here.
on the other hand: just having a certain religion, is certainly nothing to be
proud
of.
i think that is just as bullshit, as being
proud
of being born a certain race.
my opinion

1) that's why i say: "make saudi arabia arabia again"
2) question: what exactly does "being a muslim" mean to you?
Reply

I never claimed to be speaking for all Muslim women. That would be an absurd claim to make; I'm just an individual. I do, however, claim to be speaking from an Islamic perspective--by definition. Additionally, the points I made are not for you to agree or disagree with. I hope I don't come off as too bold, but they're literally a matter of fact, not opinion, and only someone who is totally uninformed about even the basics of the teachings of Islam would argue otherwise. I don't know your background though, so I won't make assumptions about how much knowledge you have on Islamic scholarship.

Well thank you! But to compare pride in religion to pride in race is a bit extreme. You don't get to choose your race, but you do get to choose your beliefs! Saying someone shouldn't be proud to be Muslim is like saying someone shouldn't be proud to be vegetarian, or an equal rights activist! Of course I take pride in the views I hold! Integrity is important to me.

Good question! Being Muslim means submitting to God, which means living a life of internal and external peace. The term Islam is Arabic for "submission," and is derived from the word salam, which means peace. A Muslim is literally "one who submits serenely to God." A life of submission is a life lived in harmony with the universe. Major themes in Islam include peace, nature, and fighting oppression by standing up for and assisting the disadvantaged. Thank you for reading!
Reply

"to compare pride in religion to pride in race is a bit extreme"
if one takes pride in belonging to a race, it inherently means that person has also adopted some racist ideology, or else the whole thing wouldn't make any sense.
religion is ideology, too.

"you don't get to choose your race, but you do get to choose your beliefs"
you sure about that?
most of us are literally born into an environment that is – to what extent, might be left undecided here – influenced by religion, and the only true free choice i can spot here, would be the choice to reject it.. (which btw i think would be a very tough to make, especially in islamic countries)


"being muslim means [...] living a life of internal and external peace"
well if that is such an obvious thing, then how do you explain that the overwhelming majority of, for example, all religiously motivated terrorists is muslim?
don't you think you make it a bit easy for yourself if you just say, that has nothing to do with "true" islam whatsoever?
(which btw, remember! those folks would probably say about your attitude, too?)


"a life of submission is a life lived in harmony with the universe"
why?
how?
Reply

Yup, religions are ideologies. There are good ideologies and bad ones. Ideology in itself is obviously not a bad thing. And yes, I am sure that one can choose what to believe. The second argument you make here is so irrational and baseless, I'm not even sure how to respond. There are non-Muslims in Islamic countries. Surely you're aware of this fact? There are people who convert into and out of various religions, including Islam, all over the world every single day. I'm sure this is not news to you. And terrorism is not exclusive to "Muslims." To say so is remarkably Islamophobic and ill-informed. Notice how when a white person shoots up a room, he isn't called a terrorist by the media. He's called crazy. Similarly, when a black person does such a thing, he's considered a thug. Pay attention to how the words we use are racialized by default. They are also tied to specific ideologies. Don't take what the mainstream media feeds you at face value, because they have too much to gain at everyone's expense by manipulating you. Knowledge is power, so be sure to educate yourself about subjects before forming opinions on them. Also, you're wrong that terrorists would say that I'm not a true Muslim, because they don't care much about Islam in the first place... Their motives are politically motivated. A bit of reading up on Middle Eastern politics and Islamic fundamentals, and this fact will become clear. The best thing you can do right now, if you're seriously interested in learning more about these topics, is start studying their primary sources of information (as opposed to studying what ignorant people have to say about them). I'm going to stop responding to you now. I hope you won't be offended, but I feel you've gotten what you can out of this conversation, and if you want to learn more, you'll have to gain some more background knowledge, and you'll have to decide to do so of your own accord. Maybe then, you will realize how much you can learn by asking questions to people with different life experiences than you and listening to the answers rather than attempting to teach people about their own beliefs. Good luck!
Reply
(2 Replies)

Reply

Reply

Well, it's fictive, but probably close to the truth. Glad you like it

Reply

Thank you, that one made my day

Reply

eppic. christians just got troled.
Reply