Description
Recently I read the first three books of Scott Lynchs "Gentleman-Bastards" and I fall in love with the whole book:
The story has something unique and special and I am very overwhelmed of that richness and imaginativeness inside that story. From the buildup of the created world to the unique characters and story. Just WOW!
This is a story which has no peer.


I rarely read books like this, although I read a lot of books. The last one on that top level was Rothfuss' "The name of the wind".
So this is my first character design of this book. I tried to combine all the descriptions of Locke which are given in the books so far. For me Locke is a mischiefous, tricky, intelligent, slender, medium-height, brown-haired guy with bright grey eyes, who doesn't mince his words. When he loves, he lovs forever, he is a reliable friend and the leader of his gang.
If I have time for the rest of the crew, I also will draw Jean Tannen, Sabetha Belacoros, Calo and Galdo Sanza, Bug and Father Chains. The sketches already are existing so far.
I hope, you like my version of Locke Lamora.

Have a look at my sketches of Locke: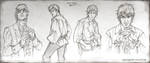 © Original Character by Scott Lynch
© Artistic depiction by me


Image size
1379x1890px 1.21 MB
Date Taken
Jul 17, 2014, 8:57:10 PM