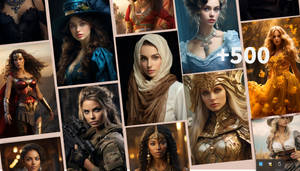 AI Female Photo Collection
This collection are over 500 illustration to help you get inspired in filed of game/animation/illustration project. This artwork image was created using artificial intelligence and the Stable Diffusion production tool. I am delighted to share this beautiful female with you that I was able to create through this process. AI Art Cosplay and Beauties All images are made of AI . We will update regularly,welcome to subscribers!
---

Description
Conceptual Illustration of Cecile for the spanish book: LIBERUM 1580 (translation in English in progress)
check out her website: www.daphnewills.com


© 2016 Artistic depiction by Keja Blank
© 2016 All rights reserved Daphne Wills - Liberum 1580

You are not authorized to use this art. It is not available for photomanips, stock, videos, icons, etc.




Image size
1797x1943px 1.34 MB

Wow, beautiful!! I love the intricate designs on the clothing. The hair has the perfect balance of realism and artistic license. Great job!!