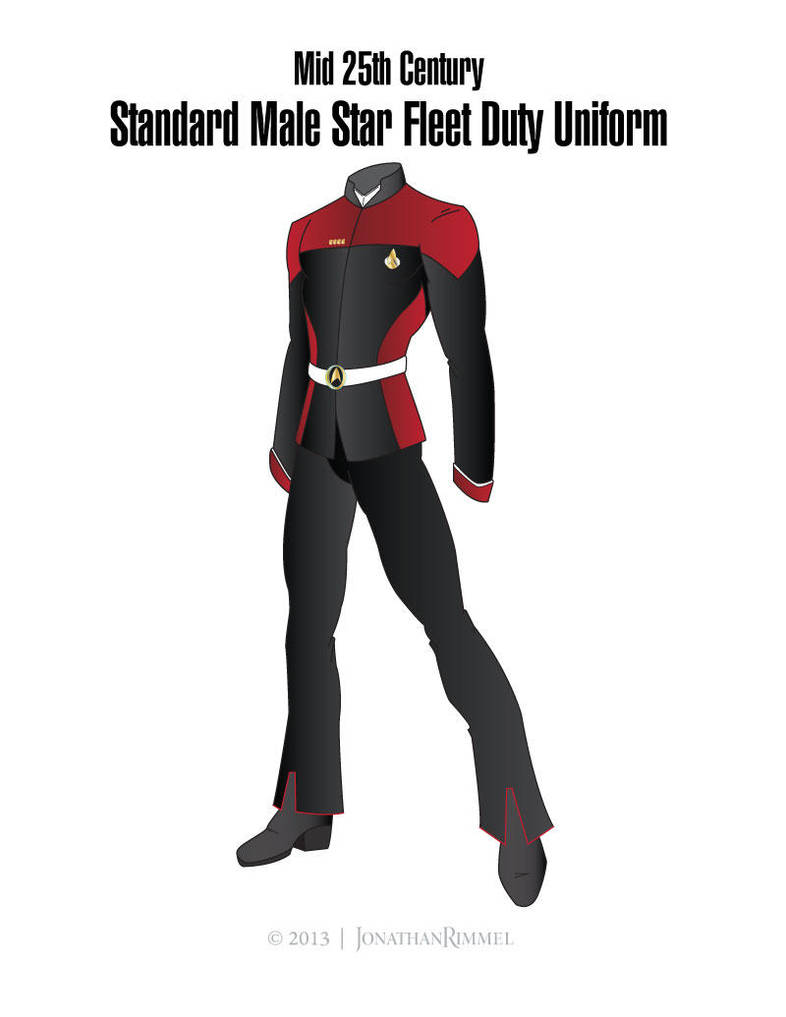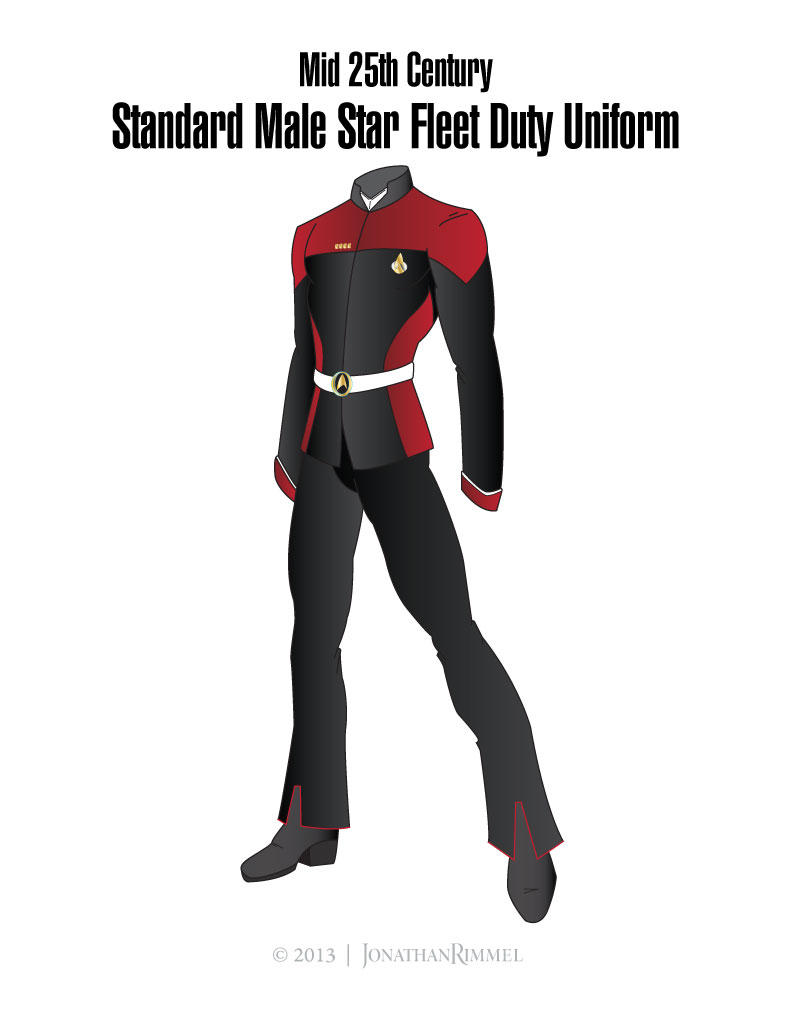 Watch
Here is the latest and greatest version of my Mid 25th Century Star Fleet Standard Male Duty Uniform. I am working on all the variations of my Star Fleet uniforms for male and female humanoids. Keep watching for them! I am fairly happy with how this one turned out.
This uniform stands out to me as it has many elements of what I want in a Starfleet uniform and some that I so not. Let's break it down;
What works for me is the coat with the high collar. Very nice stuff! The cut is military without being 19th Century High Seas

Over all I like the cut of this jib

I would certainly swap the black and red on the coat though, as the primary colours of the uniforms in Star Trek always work better with more colour than black. Keep the pants black though!
The other effect this would have is allowing the belt to be black and to lose the white "priest" collar effect. Neither really works for me in this image.
All in all I like this as a Class A and would love to see what a Class B would look like and also what a skirt/skant alternate would also look like.
Cheers!
The Artist thought this was FAIR
3 out of 3 deviants thought this was fair.

Looks indeed really nice!
It combines the best elements of all Starfleet uniforms (exept TOS maybe), without looking excessive overblown like the WoK uniform.

Reply

Very 'Space battleship Yamato'-esque. I really do like this design. Much better than the "First Contact" uniforms.
Reply

Men's Uniform. Funny in the far future there are ONLY TWO GENDERS BUT here in the early 21st Century, they THINK that there are like 158. Funny, that, Huh?!?
Reply

Perhaps in the future they got sick of the confusion and decided to differentiate only by biology?
Reply

Biology IS what determines how many genders there are...TWO, then there are Hermaphrodites, which are rare. THAT IS IT, NO MORE! I am so sick of being told I assumed someone's gender. So, now I just ask if I can't tell. So, WHAT are you?! According to grammar and etiquette, IF you do not know if someone is a man or woman, you just PRESUME that person is a MAN until corrected or confirmed. That is English Grammar and Traditional Etiquette.
Reply

Very nice, I like it!

Reply