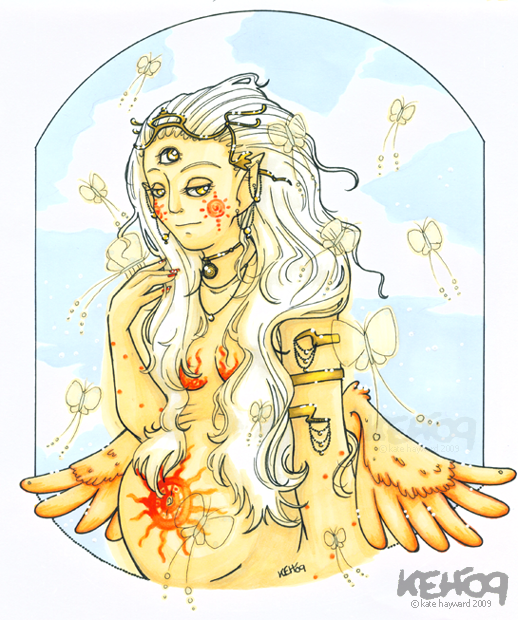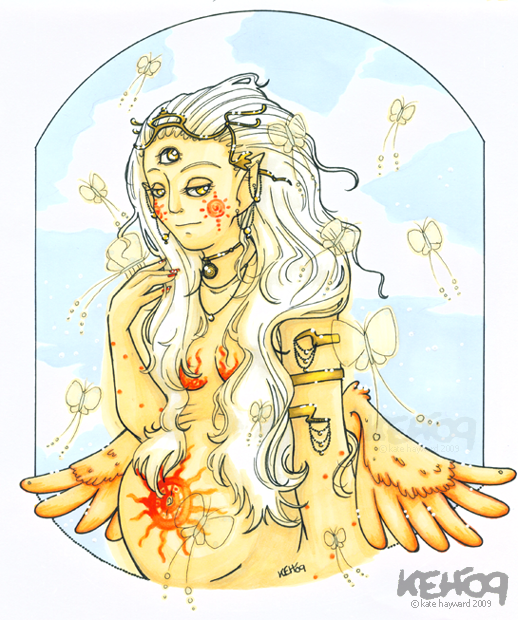 Watch
Some gifty art for *
drazzi
& ~
CreatoreMagico
of the character Sun Goddess, you can see the lovely original drawing here:
[link]
I liked the design so much I decided to do them so fanart, I'm not sure the design is totally right because I only had one picture to go by, but I hope they like it

(markers, this is also the first time I've done a freehand sky with cloud background with the markers. It was a bit scary but turned out to be kind of fun /freak.)

Yay! I'm so happy that you liked it.
I LOVE my return piccie. I can't wait to we get a new printer so I can have it on the wall

Reply

I verymuch like the little butterflies - over all this has a lovely bright feeling. AS it should, being a sun goddess and all.
Reply

OMG KATIIIIIIIE how you do this? D: <3333 She looks so AMAZING! Eee this is awesomes <3 I'm so happy to find this on my DA <333
Ku is behind me being all "omg

" and he will comment proper when he gets home because I won't let him take my login. Cos I'm a ho.
OMG OMG OMG
Oh man I love how you did the hair. And all her eyes, with that forehead one all open but the others all sleepy looking. And the lighting on the belly tatoo too AND THE LIGHT BUTTERFLIES omg Omg
<333 You are too too lovely.
(Ku will draw Kit and Kat as soon as it gets home <3)
Reply

HEEEE ~ I'm glad that you like it!

(I laughed imagining you two fighting over the login XD)

No problem, I really enjoyed drawing her ~ I have a thing for third eyes X)
Reply

This is really beautiful!
Especially the coloring. Its so soft and bright.

But I think I should point out that the yes aren't on the same level I guess...
Reply

Thanks!

(I know...I went wrong there! I need to be more careful with eyes XD Thanks for pointing it out!)
Reply

Reply