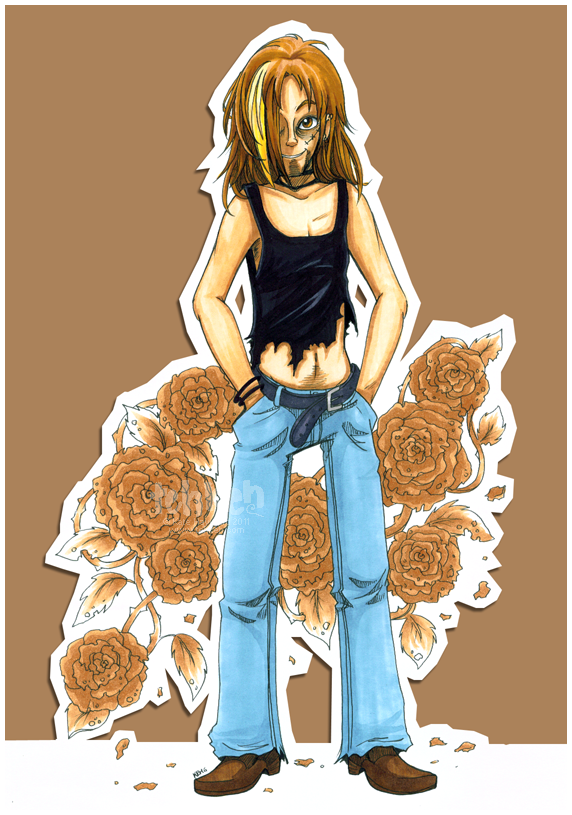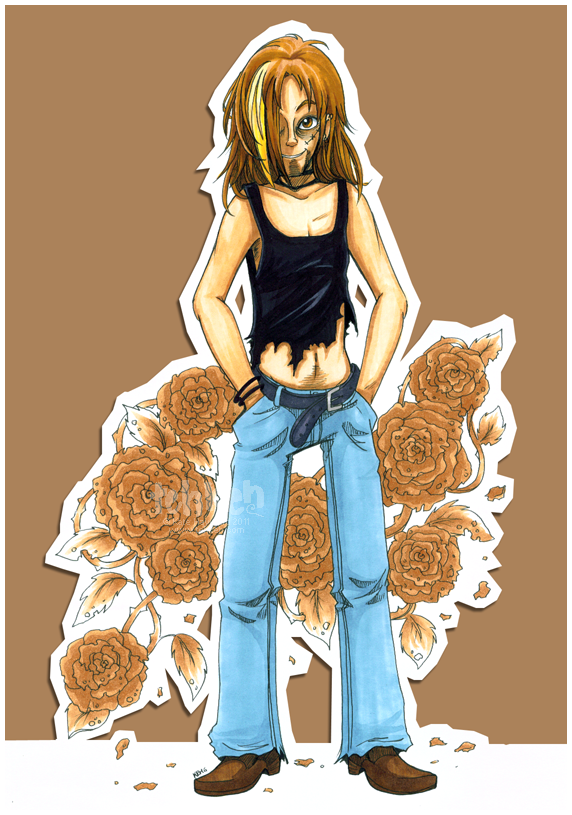 Commissioned by *
CreatoreMagico
of *
drazzi
's character Nate - he's a bit of a scummy druggie type, so I decided the roses in the background should be somewhat dead D: He's apparently also a bit of a crazy bastard, hence the creeper grin. Not sure I'd want to bump into him in a dark alley!
Markers + photo shop + gel ink pens
Commission info: [link]
(This type is under 'quick/basic commissions')

This is really great! I am well impressed with just how well you captured this guy! He looks perfect and everything about this drawing is just YES! Except Nate himself, he's NO because he's a SCARY!

*hugs* Thank you again for another awesome commission!
Reply

He's definitely not your usual type of character to draw, but of the last few commissions you've posted, he's the one I love the most. I especially like the way you interpreted his hair! It looks great.
Reply

Ha ha! I have to laugh a little every time some one says 'this isn't you're usual type/thing to draw' - looking at my gallery it really isn't because my gallery is so full of cute! No one knows I actually prefer edgy, not so cute characters! Guess I need to draw more of them : )

Thank you hon!
Reply

You know I love this, cos I'm making you draw me more of him XD ha

I didn't even click the roses were dead! I love that touch. It really suits him.

I think you did wonderfully well capturing him from the little you knew! I love it, it's just so PERFECTLY him and aihfisdbhf he's such a scab. But it's so awesome <33
Reply

Yay! I am really happy I'm getting to draw more of him! I was just saying in my comment to Rini I need to draw more 'not so cute' characters because my gallery is so full of cute. it actually makes me shudder a little bit D:
Dead roses were kinda fun!

I'm really, really glad you like it hon!
Reply

I think I don't want to meet him in a dark alley at night either... but the picture is really cool and the droopy flowers in the back are a nice touch :3
Reply