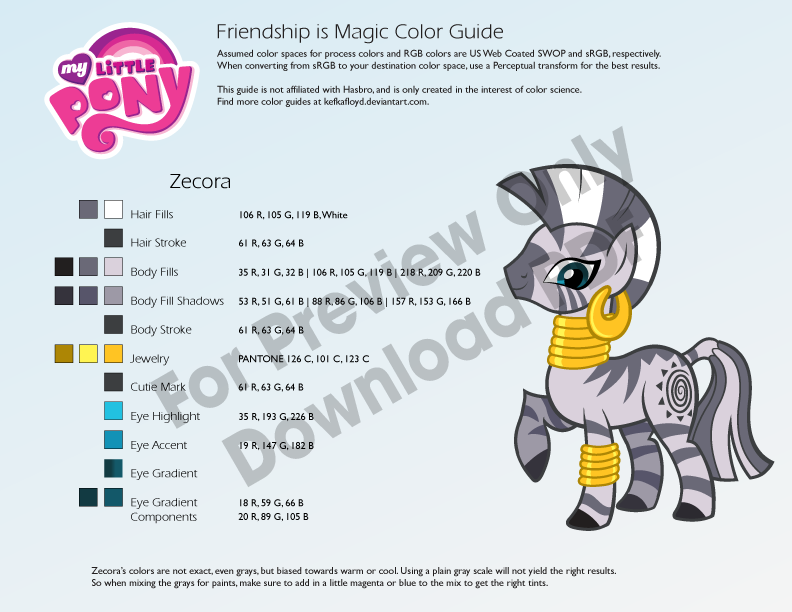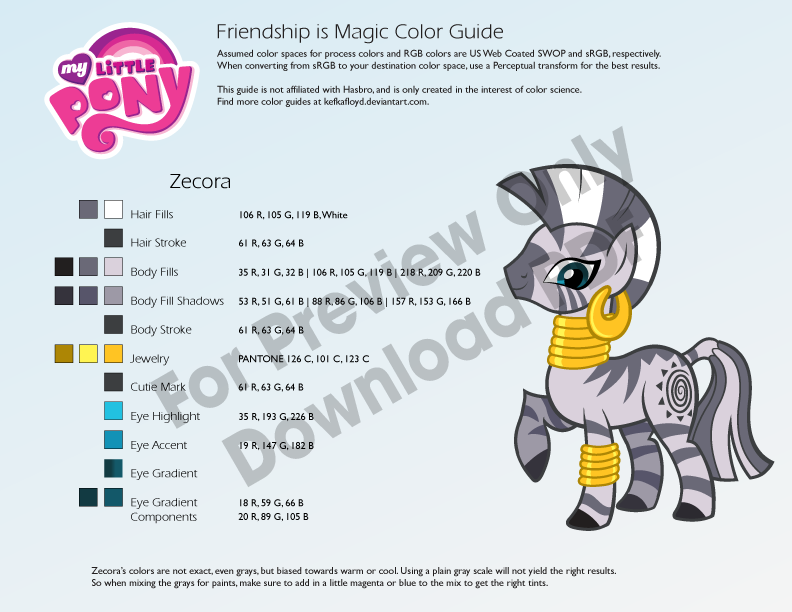 It appears you don't have PDF support in this web browser. Download PDF

Watch
After getting a lot of requests for "What color is that thing?" I decided to put together complete color guides for the new My Little Pony TV show characters. They're intended for informational purposes only and are produced independently. In most cases the swatches are researched from the official artwork. When that's not available, I used some analysis and my swatch libraries to get within a reasonable Delta-E.
Remember to download the attached PDF file and use that for reference. Do not use the preview PNG for reference material, it's intended only for preview on DeviantArt. If you're using one of those browsers that calls up Google's HTML5 PDFViewer in DeviantArt, it mangles the color display since it is not color managed. As always, please view the PDF in Acrobat or a viewer that supports color management with Overprint Preview turned on.
Zecora's palette, on first glance, appears to be simple grays, but none are truly neutral. Several have biases towards certain tints. Her main two body fills bias towards magenta (the light gray) and blue (the dark gray). So use the colors provided as a gudie to bias to the right tint.
----
The intent of using a standard color library (Pantone Solid Coated) is to stay within the bounds of said official artwork, plus give some consistency to colors used. This should help when sourcing supplies for non-digital work. If your application does not support color libraries, then using the eyedropper on the swatch should give you an answer.
This guide is not affiliated with Hasbro in any way and is produced solely in the interest of color science. For a changelog, more long-winded explanations, and other discussions, see this forum topic:
[link]