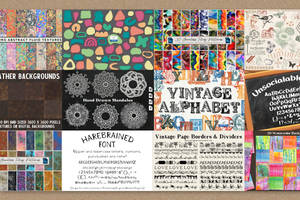 HG Designs Subscriber Area
Lots of high resolution goodies for graphic design including textures, photoshop brushes, seamless patterns and more.
---

Vloderstone Free Font Beta 1
Description
This is a new font, It's completely Beta.
I am trying to do something more professional.
This is the lite version of the main font.

It has western style letters mixed with san serif and serif.

Some unique characters like the t which almost acts like a flipped over lowercase j.

Includes caps, lowercase, numbers and some punctuation.

Would love some beta testers and feedback to let me know which letters seem off/imbalanced or what letters need kerning. Took a total of about 3 days to completely finish.

Quicky Question: How do you feel about the "western" dashes that are in the caps? Should I use 'em or lose 'em?