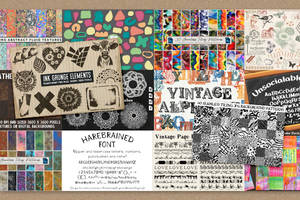 HG Designs Subscriber Area
Lots of high resolution goodies for graphic design including textures, photoshop brushes, seamless patterns and more.
---

SNOW PS7 Brushes and IMG Pack
Description
CLICK HERE TO DOWNLOAD

Please Comment
, Even if you don't download (would like feedback for updating)
I hope you find these useful, They aren't just stamps but realistic repeating & size variating snow flakes.
Original Preview With Style Descriptions and Previews Here:
i.imgur.com/SpsUIeq.jpg
Rules:
- Enjoy them.
- Non-Commercial Use
- If Used in a DA Project, Please link back to my account or this brush page.
Share your Projects with Me. I really want these to be helpful and would like to see if they were helpful.
Tips On Using:
- Dab the brushes, Like most brushes you will get less scatter if you simply hold your mouse and drag it.
- Objects normally have less snow than the backgrounds so once you have applied the snowflakes to your entire page, Crop the background and apply it for the 2nd time.
- Use different brushes for different projects. There are 7 completely different snow variations so play with each.
View Large Preview to see the variations of different snow.
STAMP/IMAGE PACK in 1 File
Click Here to Download JPG File
<tt>No snowflakes were hurt or used in the making of this brush set</tt>
©
dirt2.com

Thank you so much for giving us your time, effort, and of course, talent.
(I'm only just learning how to use different brushes in PS, so I probably won't have anything worth looking at for a while, but thank you in advance for helping me to improve my art!)