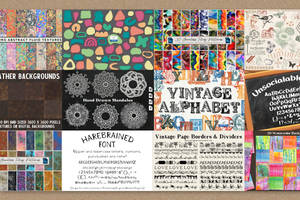 HG Designs Subscriber Area
Lots of high resolution goodies for graphic design including textures, photoshop brushes, seamless patterns and more.
---

Description
- I don't really require much credit, but linking back to these would be fine.
- 45 Brushes
- For Photoshop (7.0 and above including Elements)

SIMPLE TIP: Create a solid circle shape below the brush layer to have that defined detail stand out more.INTERESTED IN USING FOR PRINTS?
You can use my brushes on prints for only $5.00 - Send to sales@sickcapital.com (Via PayPal.com) - Simply leave a note in the description letting me know which brush set you are donating for. More details at Dirt2.com/donate