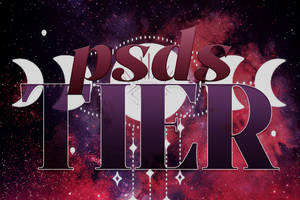 PSDs Only
For those who would just like the PSD's I create.
---

Katy Perry Font - Katy Berry
Description
Includes Caps, Lowercase, Numbers and some punctuation.
For best results use kerning, transform it so it bends like in an arch shape like the original logo. Use the period and asterisk for stars and hearts.
This font was actually difficult to make, The logo is pretty easy to replicate and all but it was the fact that it wasn't "fonty" looking made it really difficult to make it accurate. The letters really connected to eachother and bend and were long to wrap the word together so I had to change them so they would work with other words rather then just her name.
Feedback appreciated, Let me know if there are any bugs/Spacing issues and I will try to update it ASAP.
Note: Original logo is not affiliated with font/Was not used as a guide for this font (Used Logo as Reference). All rights to this font are copyright to Dirt2.com
I know it may look sloppy at first but that was because I was trying to keep it relevant with the original logo:
[link]
(You will see it's not clean and evenly sided especially with the y's and the e).
NEW VERSION 1.2 IS HERE WITH ALL NEW CHARACTERS/REDESIGNED LETTERS
Fav & Comments Plz, Thx!