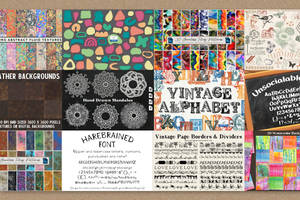 HG Designs Subscriber Area
Lots of high resolution goodies for graphic design including textures, photoshop brushes, seamless patterns and more.
---

Description
File is .otf - It may not work with Macs.
If you know how to convert it to a truetype font or would like to voluntarily do so I would be so happy and will link you.

Non-Commercial Use Please: No selling of items that have this font being used on it. School/Charity items are acceptable.

Font Size: 515kb
Full Alphabet, Numbers and Puncuation Preview (It lags if you open it with the regular Font Viewer so I am posting this preview).
PLEASE COMMENT OR FAVOR IF YOU LIKE IT
I never get any comments these days