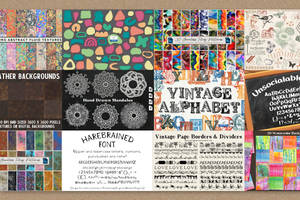 HG Designs Subscriber Area
Lots of high resolution goodies for graphic design including textures, photoshop brushes, seamless patterns and more.
---

Dirt2 Secret Garden Brushes
Description
Download At Dirt2.com

Click here to download this brush set
General Terms of Use
For additional information view my terms on my main userpage.

You may not claim my resources as your own or upload them to your DeviantArt account.


These resources are for non-commercial, personal use (May not be used for sales or profit).


Please do not hotlink the download file on either my DA account or Dirt2.com


To upload my resources onto your "Downloads" or "Resources" website please contact me first.



Optionally comments, favorites and Thank You's are very much appreciated.
To Use Commercially
To use these brushes on commercial projects, prints or sale you can:

Donate $5.00 to me via Paypal.com (to services@dirt2.com

To send money using another method please
Note Me.
+ Commercial Usage Includes All Media: Television, Print, Products, Advertising, Clothing etc.
+ Commercial Use Donation Covers Unlimited Usage for 1 Brush Set/Theme
+ Prices are per brush theme (ex. Grunge Brushes 1, Textures 2).
Sharing is Caring
It is optional to let me know if the resource was used but I favor those who share so write a comment and show me what you've created!
</b>