Taking a break from DA if I'm slow to upload anything for awhile
I've been a Deviant since Jan 18, 2012. I'm a novice photographer and a novice artist. I'm completely self-taught and I draw for fun, when inspiration strikes. My main tools of the trade so far have been Microsoft Paint, FireAlpaca, DA Muro, and a touchpad. I'm trying to get into 3D art and am learning how to use DAZ Studio 4.7 Pro too.





What Is Your Level Of Sanity?
Hosted By theOtaku.com:
Anime
A little about me:
IF I ADD ONE OF YOUR DRAWINGS TO MY FAVOURITES OR START WATCHING YOU, IT'S BECAUSE I REALLY LIKE YOUR WORK,NOT TO GET MORE ATTENTION OR MORE WATCHERS! Feel honored if I watch you ;D
Phobias:
I know I have at least two phobias.
Severe katsaridaphobia (fear of roaches, I'd like to be able to overcome it. They're harmless and more scared of humans than we are of them, but I've been scared since before I was five years old.

I'm scared of heights.
I'm a member of the Redwall Wars roleplay Wiki, my username (and fursona) is WildloughRhulain. My friends there call me "Wildy." If I use that name in my art, that's why.
My Fursona: Wildy's a tall, wiry female otter. She has mahogany-brown fur, all except for her head and her neck, which are a lighter brown, and a small, oddly shaped auburn birthmark on the tip of her rudder. Her weapon: Nothing like the good old AK-47.

Note To Visitors: I don't mind if people borrow my original RPG or story characters, they're more than welcome to if they want, just as long as they credit me for them.
The birthday badge on here shouldn't matter, because I was prematurely born, I was supposed to have been born sometime in April:
STAMPS: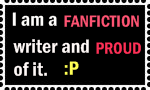 :thumb289636200:




:thumb333017567:






My Quiz Answers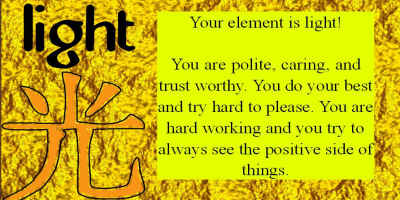 What Element Fits You Best?
Hosted By theOtaku.com:
Anime
Badges:



"To do is to be"-Sartre
"To be is to do"-Socrates
"Do Be Do Be Do"-Sinatra
"Scooby Dooby Do"-Scooby Doo
"Yabba Dabba Doo!"-Fred Flintstone
Quotes from Church leaders:
"And now, as pertaining to this perfect atonement, wrought by the shedding of the blood of God--I testify that it took place in Gethsemane and at Golgotha, and as pertaining to Jesus Christ, I testify that he is the Son of the Living God, and was crucified for the sins of the world. He is our Lord, our God, and our King. This I know of myself independent of any other person.
I am one of his witnesses, and in a coming day I shall feel the nail marks in his hands and in his feet and shall wet his feet with my tears. But I shall not know any better then than I know now that he is God's Almighty Son, that he is our Saviour and Redeemer, and that salvation comes in and through his atoning blood and in no other way."
--Elder Bruce R. McConkie