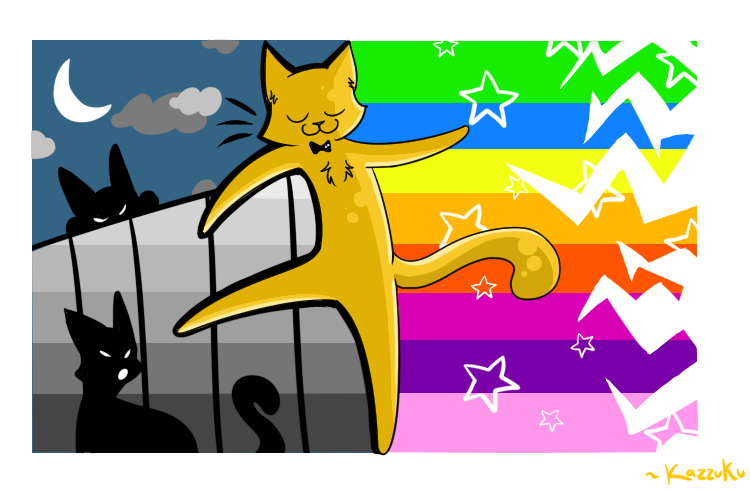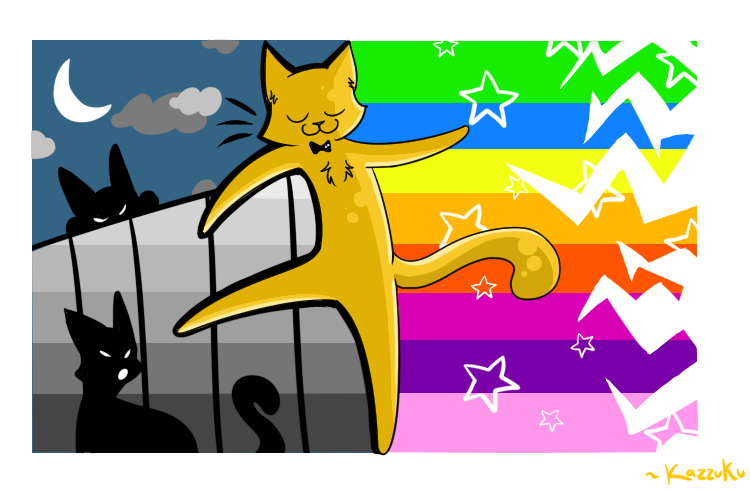 Watch
LOLOLOL I dont even
I like ginger dancing cats clearly

This was made because I was told I need more digital art in my portfolio (like, graphic cartoonist style) so I did this for some reason xD
Inspired by my guy friend who was told he was gay if he danced jazz with me......... I dont think its gay I think its awesome!?

Reply

Lovely job!! Really, I love this! *3* It's awesome in every eay possible!

Did you make the rainbow-y thing un-rainbow for purpose btw?
Reply

Truth be told, who cares if it's gay? There's a rainbow flag, so I suppose it's technically gay, but it certainly isn't stupid (which, for some reason, gay is now used as a synonym for).
Reply

Yessu, people get bullied if they dance these days and they are male... seriously I don't get how that is gay in any way. And I don't know how gay ever got to mean stupid, but its a far flight from its original meaning.

Reply

I love how totally offended that cat below the fence looks. |D





Not to mention your art just keeps getting better and better. Not to mention more creative. C: <3
Reply

He is clearly anti rainbow |D **MAIMED**

Lavi, you fag, shut up. xDDD ILU <333333
Reply

Clearly! His companion looks quite peeved as well. |D If not more so.

And no, you couldn't silence me before, and you can't silence me now. C| ILU2ohoho<333333


Reply

trwuirtwu

I like the rainbow. It impresses me.

But yes this style is hgnnn seriously <333
Reply

Hnnngh this is beautiful~. <333
I love this style of yours so hard eytryet. ; 7 ;
Reply

creativity pops in to mind
Reply