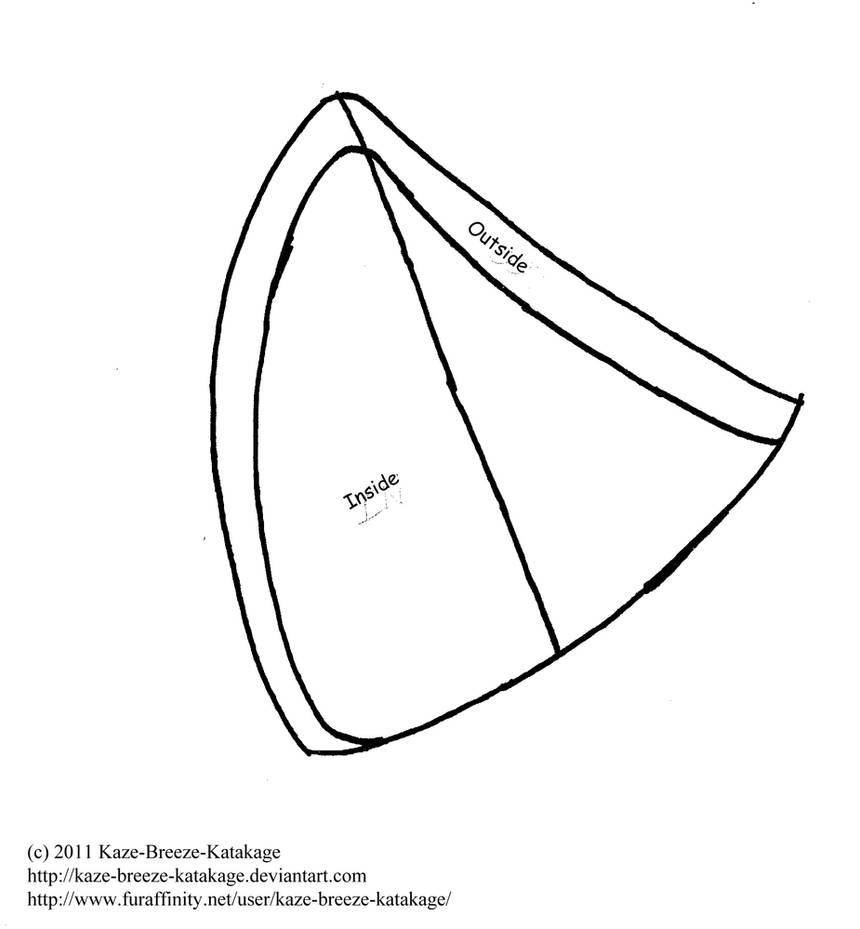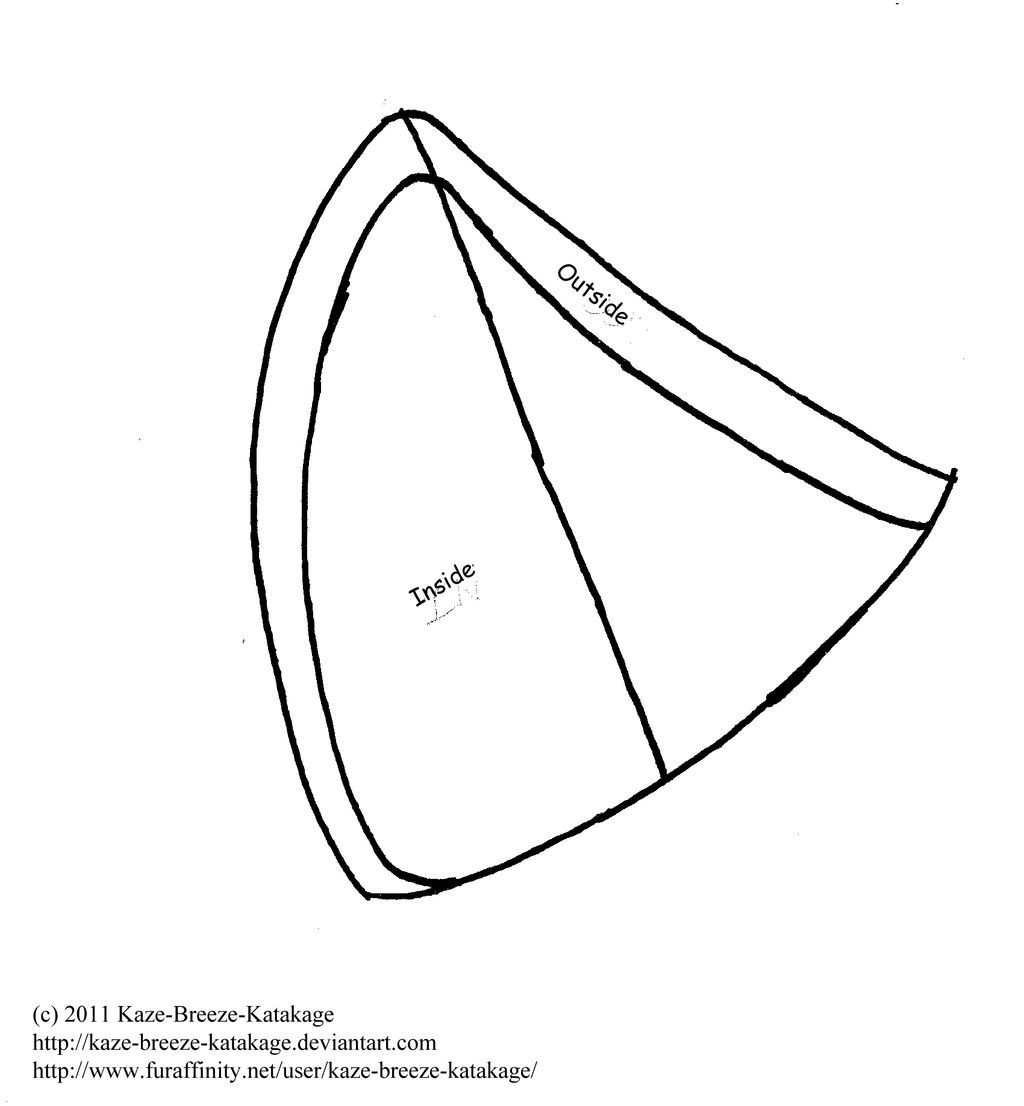 This is a simple pattern created by me in order to make my final wolf/fox ears for my partial Kaze costume.
The pattern is free to use and I will even give instructions!
:
STEP 1
Print out 2 versions of the pattern the EXACT SAME SIZE. (You will have to resize this pattern because it was scanned to be big so you can make any size ears you want.) One version of the pattern will be for the outside. For the outside, cut out the entire outside of the ear. One version of the pattern will be for the inside, which will be smaller than the outside. For the inside, cut out the entire outline of the part marked "Inside", ignoring the fold line in the center. The fold line will be used later on.
STEP 2
This is the easy step. For this one, I will just link you to a video by the great

, an excellent fursuit and fursuit parts marker. She explains this better than I do:
[link]
I, however, hand sewed mine because I couldn't figure out why my sewing machine wouldn't work, but the procedure is the same as with using the machine. It just takes MUCH longer!
STEP 3
The next step is up to you. If you plan on folding your ears in to make a more realistically curved ear, you just take the non-curved tip on the outside of the ear, and fold it to the center (or about there of) of the ear and sew it there. That way it creates a pinned curve to the ear that creates an inner portion. Then your ears are done!

OPTIONAL STEP 4: HEADBAND
This is an optional step for those of you who want to create a headband just like I did:
[link]
This is relatively easy to do. First you position the ears on the band exactly how you want to. Then (and I know some other artists do this differently, but this is how I did it) you "loop stitch" the ears onto the headband until the ears are stable and not "floppity". (Other artists hot glue the ears onto the headband, which is an option that works as well and is more stable, but I find it to be a lot more messy.)
And TADAAAA! You have your own set of ears!

If you have any questions, just leave a comment below. I will answer any that I can.


I'm so happy to see that some fursuiter or even fursuit makers are willing to share their designs
Reply

Same here! Without this tutorial and the pattern I made using ideas from it, I'd be totally lost. I love it when creators share their ideas and processes!

Reply

Im going to use them in a pattern Thank you!
Reply

THANK YOU!! their perfect! just what I wanted. I'll give credit and link when I post
Reply

its funny how u mention u hand sew everything because ur sewing machine wont work because i have the same issue. i hand sew everything on my hats up until the band because thats just a strait line and easier for me. i cant do curved lines to save my life on a sewing machine haha. also thank you for the free pattern.

Reply

Reply

I'm not sure exactly what you mean by the non-curved tip, are you referring to the pointed tip that you would sew onto the plush head? Also when I sew the curve in should the ear be flipped inside out or right side out?
Reply

That's awesome!

Mind plugging my pattern for me? Just put the link in the description.
I'm glad you were able to make something so cool with my pattern! X3
Reply

I didn't out it in.. I thought I did. I will do it right now!!
Reply

I'm going to send you a link of the hat i made with this AWESOME design!!!!!!
Reply