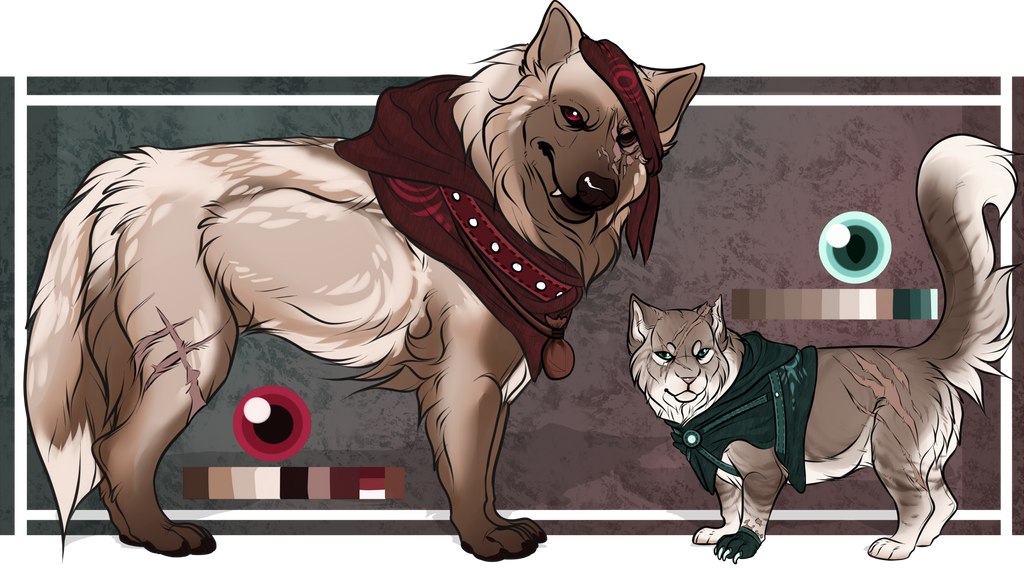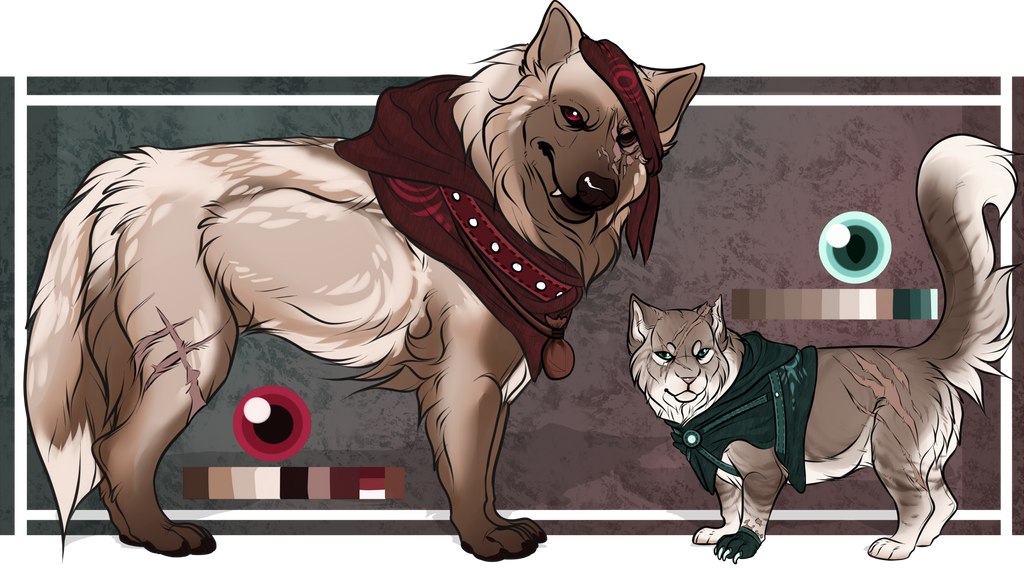 Watch
BY PURCHASING FROM ME YOU ACKNWOLEDGE AND AGREE TO MY TERMS OF SERVICE--
_____________________________________________________________________________________________________________
_____________________________________________________________________________________________________________
EDIT: SOLD!!!
New Owner:
Fiddlestik
Adopt #3+4!
SO This is a special little adopt. Where i've designed two characters that are themed similarly enough that they would work fantastically as a pair, rivals, couple, teammates, etc, OR work just fine seperated! :3 So the option to buy both together or buy them seperate is available.
++
Name + Brief story I made for them are completely optional. You are welcome to change these things entirely.
|
Hayzel(Wolfdog) + Yurien(Cat)
Once brothers in arms, the two faught as the most elite of there group.
Charging into battle with such a keen sense of one anothers present that they worked in absolute tandem with no words exchanged.
To watch them fight was like watching an elegant, yet oh so intense, dance. The two were flawlessly fluid.
That is until the day they 'turned' on one another.
For reasons not entirely known to either party, the two began to believe there was mistrust between them. Lieing, stealing, scheming the others demise..
The paranoia lead to Hayzel jumping Yurien, and mangling his paw and face. Yuri now wears a glove with metal claws on it to hide his messed up paw and regain his attack in that paw. To which he named his first victim, Hayzel.. Yuri inacted his revenge and assaulted Hayzel, clawing his face and gouging out his eye. Hayzel now wears a bandana around his head to cover his missing eye. Despite now being even, the two were far from satisfied.
_____________________________________________________________________________________________________________
RULES+PRICES

-USD ONLY

-Payment upfront, no holds.
-BUYER DA ACCOUNTS MUST BE ATLEAST A FEW MONTHS OLD
-I will be sending an Invoice for payment.
-I can make small edits, and change the name.
-Once baught: You can alter the design however you want so long as i still get credit for the overall design + reference.



-30$ EACH / 50$ for BOTH
+PLEASE MAKE SURE TO CLARIFY WHETHER YOU'RE WANTING ONE OR BOTH.

Counter-Offers
A 24 Hour Counter Offer session will begin when you comment to purchase where one may offer more than the flat price.
If in 24 hours no one attempts to offer more, then you will win.
If it a higher bid is offered, this session will start over. Another 24 hours will be given to bid more again.

-Please reply to highest offer when commenting.
_____________________________________________________________________________________________________________
Art (c) Me