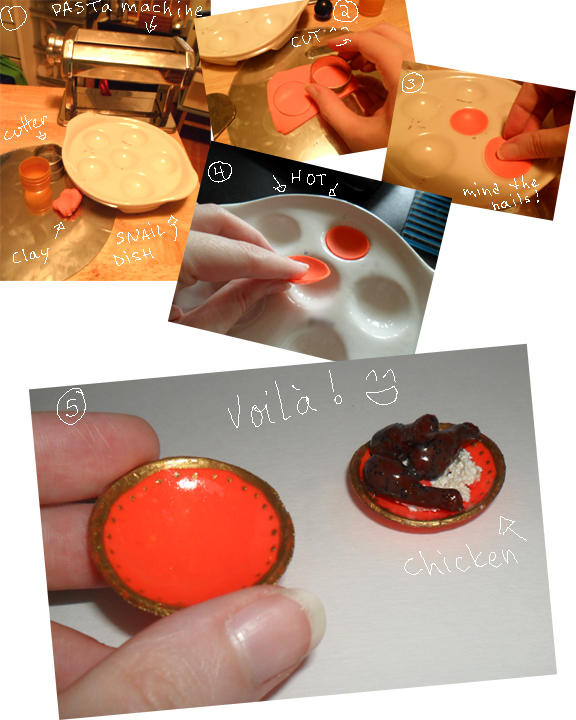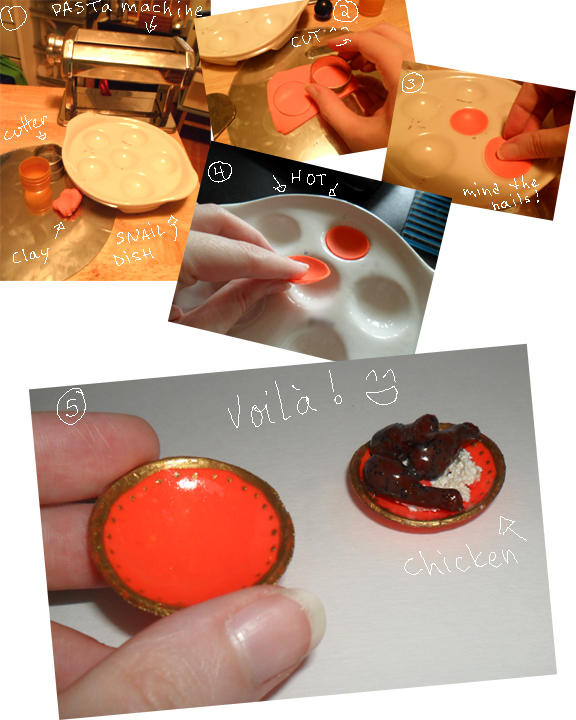 Watch
Easy Plate Tutorial
This is the easiest way I found to make miniature plates with polymer clay! I made these plates a while ago, but never took the time to make and send the tutorial.

Step #1
You will need:
-A snail dish (I think this is how they are called in English, but I'm not sure) Tip: You should check in second hand or one dollar stores for this one, otherwise you might find them expensive.
-Polymer Clay (Fimo or Sculpey; I personally used Sculpey Clay)
-A round cutter about the size of the circles in the snail dish. You can use anything round to cut your clay, it doesn't have to be a cookie cutter. You can see on the picture a Kinder Surprise Egg. They make excellent cutters!

-A pasta machine or a rolling pin. Personally, I prefer using the pasta machine to make dishes and plates because it makes each dish/plate even.

Step #2
You roll the clay to the thickness you prefer and cut the circles with your cutter.
Step #3
Put the circles you've just cut into the snail dish. It can be tricky if you have long nails, so be careful.

You do not need to worry if they will come out of the "mold" easily; they will.

OVEN TIME! Make sure you check the package of the clay you use for the curing time and temperature.

Step #4
Remove the snail dish from the oven; CAREFUL as it will be super hot! Take the newly made plates out of the snail dish while it is still a bit warm, as it will be easier this way. You should not have trouble removing them from the made-up mold; it really is not supposed to stick!

Step #5
Voilà! The final result, after adding a little bit of gold paint to make it prettier!


Deviled egg holder are slightly more oval though, but can still make nice platters.

I've looked into a Visual Dictionnary I found a few days ago and I do have the right name. It might not come around as often in the USA as it does here since it is a dish made for French Speciality.

Still, the deviled egg dish is a good idea!

Reply

The shape is right, but it is plastic, right? The snail dish is ceramic or porcelain (not sure) and it can go in the oven, not the paint palette.
But you can find snail dishes at 1$ stores or at secondhand stores like Village Value and stuff like that. I did not pay more than a dollar for it!

Reply

Ah. I thought you popped em out after getting the shape and then put them in the oven.
I've just never seen snail dishes around here ((lives in Michigan)) and wanted to suggest something else if you couldn't find em X3
Reply

Well, You can mold the clay on anything that has a shape and can go in the oven; anything metal or ceramic.

The snail dish is just my own idea and I find it easy because it already has the right shape, but you can use something else.

Anyway, good luck.

Reply

You are so smart... hahahah. Why haven't I thought of this?!
THANK YOU!
Reply

Reply

Super bonne idée pour l'assiette à escargot

Reply

RANDOM COMMENT TIME
One of the few words I know in French is "escargot", I learned it so that if I ever go to France or to a french restaurant no one will ever trick me into eating one or order one by mistake

I learned it for precaution since I was like 5 lol.
Reply

LOLLLLLLLLLLLL SO RANDOM!
yeah, snails are gross... I think the reason people like the dish so much is because of the overwhelming amount of butter, garlic and cheese. They should just get Garlic Bread with Cheese instead, lol
Reply

Merci!

J'espère que toi et ton ti-poupou tout neuf allez bien!

Reply

Super bien! Mon petit Loïc commence à m'jaser ça en souriant

J'ai recommencé à popotter la semaine dernière. J'ai pas trop pris de photos mais à date j'ai fait: 2 gâteaux, 1 lasagne maison, des brownies et des petits pains maison. lol.
Reply


Ti-poupou qui jase!

Est-ce qu'il imite tes sons? Moi j'adorais faire ça avec le bébé de mon ancienne voisine.
Des ti-pains maison...chaud avec une petite couche de beurre. Heille! Ça me donne faim juste d'y penser...je suis dû pour une snack! lol
Reply

si t'es sur facebook, tu peux m'ajouter j'ai mis des vidéos du petit

mmmm j'ai mis du beurre à l'ail

Reply

Je t'ajouterais avec plaisir à ma liste d'amie FB, mais il y a a peu près 30 personnes qui a le même nom que toi sur FB, lol

Ajoutes-moi, si tu veux, je vais mettre un de mes miniatures comme photos de profile, je serai plus facile à repérer!

Si jamais tu ne te souviens plus de mon nom, écris-moi un message privé!

Reply

Is the snail dish made out of ceramics? (dunno if its the right word. Same as plates and cups?)
Reply