I'm wanted to make that journal entry for so long! To allow me to share other place where you can find me!
I've been wondering during a long time if I should, and well, I like knowing others place where I can check/follow/support artists I like, so why I shouldn't share those myselt ? :3
So here, an update on all this:
CLICK TO ENTER THE DISCORD SERVER

You probably saw me sharing a tons of "weekly doodle dump", yet sharing them by huge package and not weekly at all... XD
Well in fact, those are weekly on
my patreon
!
I'm way more regular to post on
Patreon
, so, for those that really don't wanna miss them I can only advice you to simply "follow me" there. That option doesn't ask you to pledge anything to be effective.
And with it you should get an email-alert when I'm posting something.
Also!
I started to take request
for those doodle dump
for anyone that is one of my patrons
, so, even 1$ support works for that!



I also have a
kofi
running for anyone that was slide me one coffee or two to keep me hydrated, warm and cafeined while I'm working on art piece. o/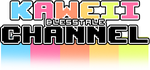 I still streaming every now and then
on Picarto
! Usually working on commission or doodling for those weekly doodle dump.
On rarest occasion I work on slice of life comics, I hope I'll be able to do more of those in the future!
---------------------------------------------------
Anyway, I really wanted to thank everyone that is new around my gallery even if I'm super quiet!
I try to reply to comments a lot, but I get easily overhelmed and feeling not grateful enough by repeating "thank you!!" everytime. It means so much to me, I should be typing an essai full of praise and thanks for everyone that showed interest in my work, ahahah!
I only hope I make nobody sad cause of my crappy replying comments skills! xD
*hugs*
SO yeah, thank you for still being here around and looking at my stuff.
It means the world! I wish I will keep creating things enjoyable for yall!
On this, have a good day/night!
And see ya... in the next update??? In the comments??? Somewhere in those place I just linked???
Well see ya next time! *sends smooches*