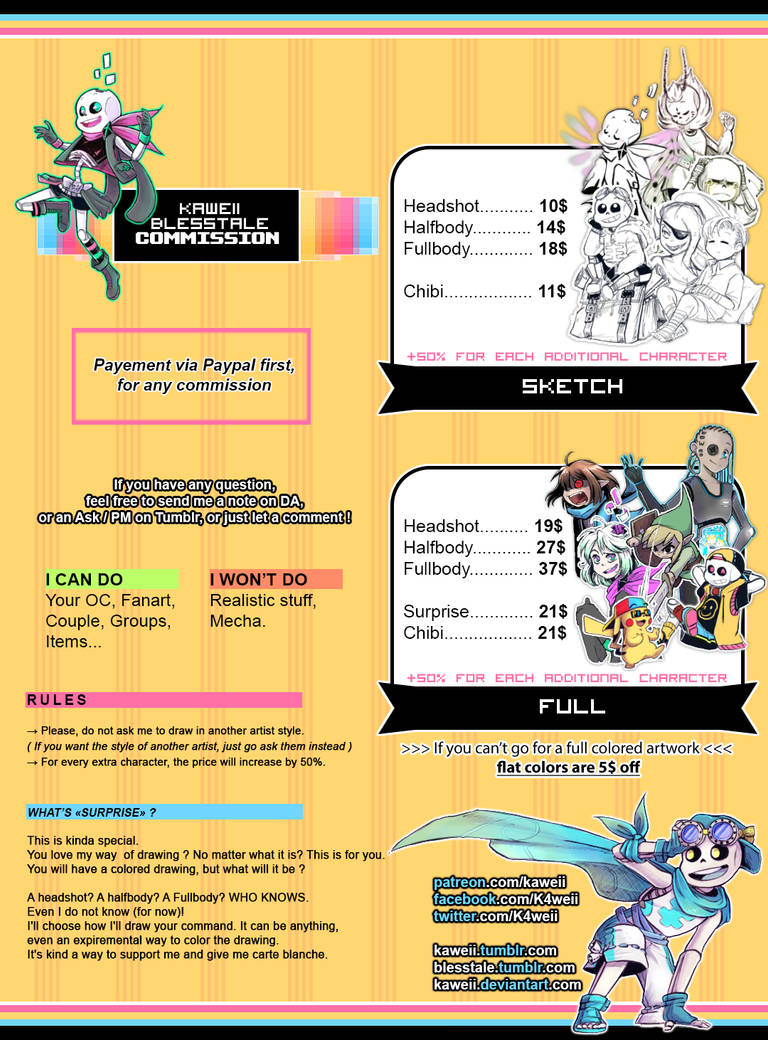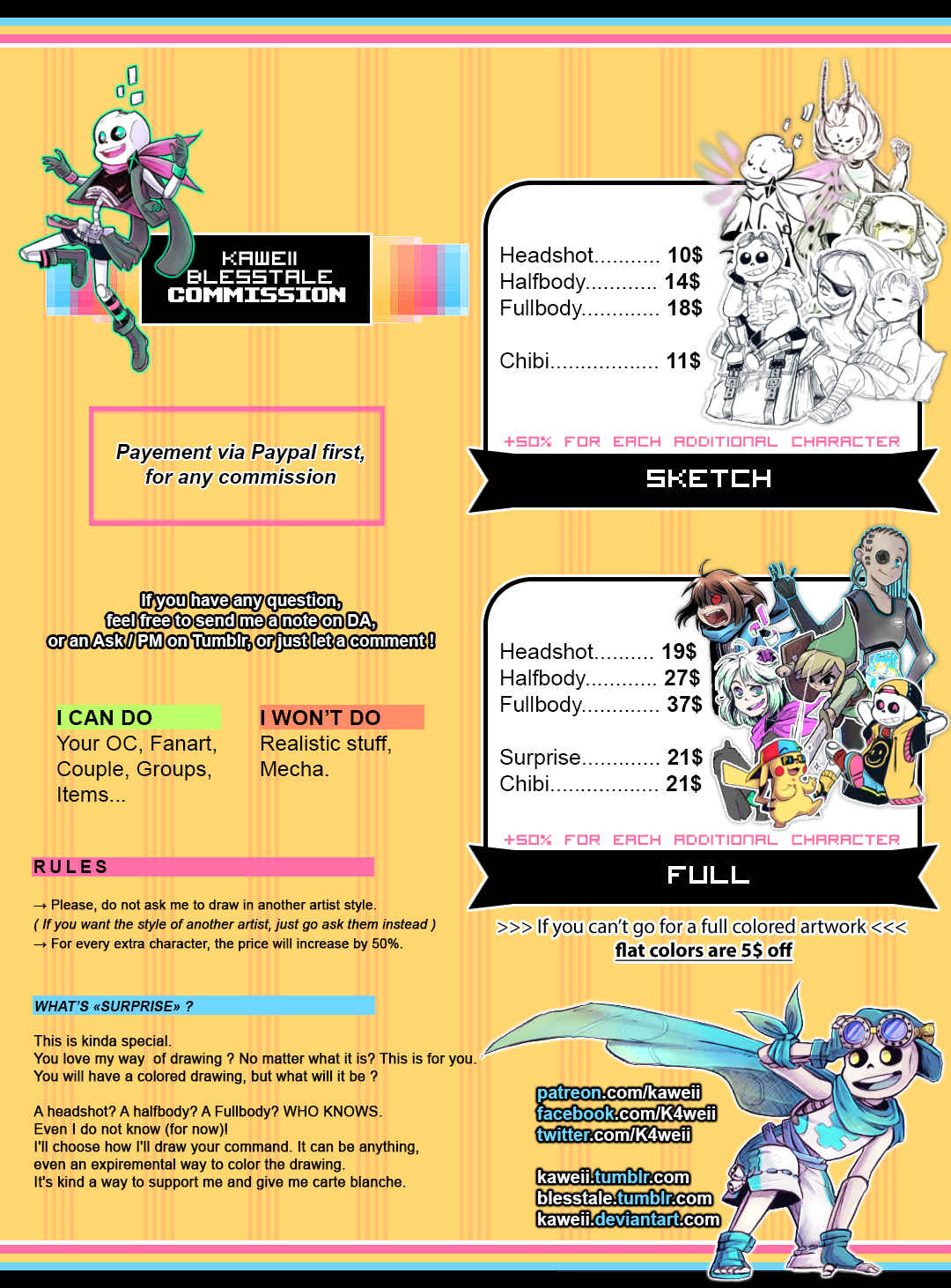 Watch
[commissions are OPEN]
/!\ UPDATE FOR 2018 !!!
FLAT COLORED ARTWORK HAVE NOW A PRICE.
And it's 5$ off from the fullcolored artwork price.
And so it goes:
Flat colored Headshot: 14$
Flat coloredHalfbody: 22$
Flat coloredFullbody: 32$
Flat coloredChibi: 16$
Flat coloredSurprise: 16$
All my price now include all the fees that I need to pay, and so, those are way more fair to me to work with!
I hope you can understand that little raise. It was really needed for me to keep them going on!

kaweii.tumblr.com/
blesstale.tumblr.com/
- Some rules first -
→ Please, do not ask me to draw in an other artist style.

(If you want the style of an other artist, just go ask a commission of him/her.)
→ For any commissions, pay first (even if it's a sketch commission).
→ For every extra character, the price will up of 50%.
- What I can do / What I can't do -
✔ I can do:
→ your OC, Fanart, Couple or groups, items, ...
✖ I can't do:
→ Realistic stuff, Mecha.
- What's "surprise" -
Ohohoh ~
Here, it's kinda "SPECIAL".
You love my way to draw? No matter what it is?
This is for you.
You will have a colored drawing, but what would it be?
A headshot? A halfbody? A Fullbody? WHO KNOWS. Even me, I don't know (for now)!
I'll choose how I'll draw your command.
It can be anything, even an expiremental way to color drawing.

It's kinda a way to support me and give me carte-blanche.
- SOMETHINGS YOU HAVE TO KNOW-
I always try to stream my commission on :
picarto.tv/Kaweii
I'll let you know if I stream yours ♥
_____________________________________________________



: * OKAY. NOW, HOW DO I COMMISSION YOU?

→ Send me a neat note! or an ask/PM on tumblr or event a comment here
Please follow this exemple:


Category (select the one you like): Chibi / Headshot / Halfbody / Fullbody/ Surprise

Character reference : (Pictures or a real good description of it)
(Don't forget that I'm not english fluent, please ;u; )

Additional info : (Things that you think I need to know before starting to draw,)


: * DONE! WHAT'S NEXT?

→ Wait for my reply! I'll answer you as soon as I can to confirm that I got your message and add you to the waiting list! :3


: * WHOA IT'S MY TURN SOON! I WONDER WHAT I HAVE TO DO!
→ I'm gonna send you a note to confirm details and pricing.
After I'll send you my paypal information. I'll only start to work on your commissions when the whole payment is sent and booked.


: * I WANT A PREVIEW!
→ For lining and color commission, I'll sent you a preview, of course!
But, I'll not sent a preview for sketch commissions.


: * HAVE YOU FINISHED WHAT I'VE ASKED YET?
→ I'm gonna send you the full sized drawing without any waterwarks as soon as it's done!
(Don't harass me, Only Sans can harass me ♥)

(I can put my signature on the drawing if you ask for it! I know that some people like that ♥ That'll be my pleasure)
_____________________________________________________


If you have any question, feel free to ask here, or by note or on tumblr! ♥
Thanks for reading and thank for you support guys!