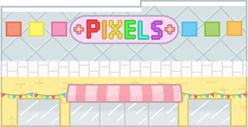 Welcome to Kawaii Pixels Store Group!



Store your free cute pixel arts here, or if you look for free pixel arts, browse and search here !and make sure to credit the owner of the art.


Please Join and watch, and hope you enjoy your stay here~





Group Rules:


Submit only FREE pixel arts


Only cute arts (nothing adult or mature)


Submit to the appropriate folder


Be polite and respectful


Have fun!