Welcome! This is a group dedicated to all things cute and kawaii! If you'd like to join, please view the rules first!



General Rules for Joining


You must follow the group rules. Repeat offenders will be removed from the group!

Play nice with other group members and listen to the staff! We do not tolerate rude behavior!

Please, do not advertise yourself in the comments section ever, if you'd like something (ie: contest) to be advertised, then please note the group!



Rules for Submitting Deviations


Please, submit to the correct folder! If you do not your deviation will be declined!

You may submit two deviations per week!

We don't accept literature or journals.

Only cute art is permitted in our galleries. Also, no poor-quality camera pictures of traditional art. Sorry!

No art with nudity, mature filter, suggestive ideas, hentai/ecchi, yaoi/yuri, panty-shots, excessive gore etc. Totally not cute!

The featured folder is off-limits, the deviations showcased there will be hand-picked by the admins.



Reasons for Declining


Deviation breaks group rules

Deviation was submitted to incorrect folder.

Deviation is clearly stolen or re-colored

Just ask an admin, if you are unsure why a deviation was declined and we'll respond asap.
**Please ask any admin about rules if you have a question.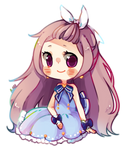 Mascot, Alice, drawn by mahoukuma and Mielle
Group Icon made by

cuteii

(your senpai)