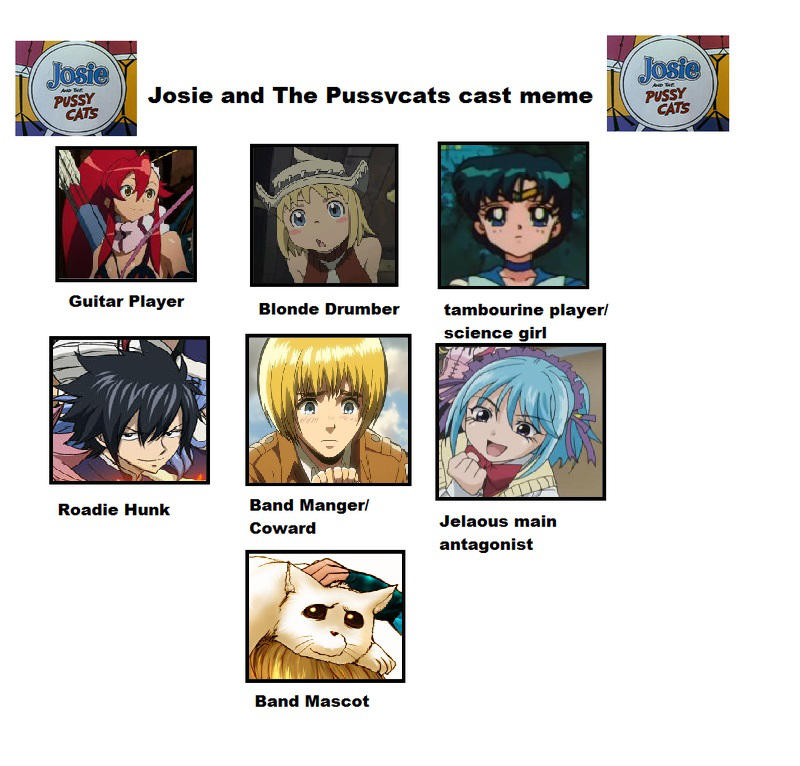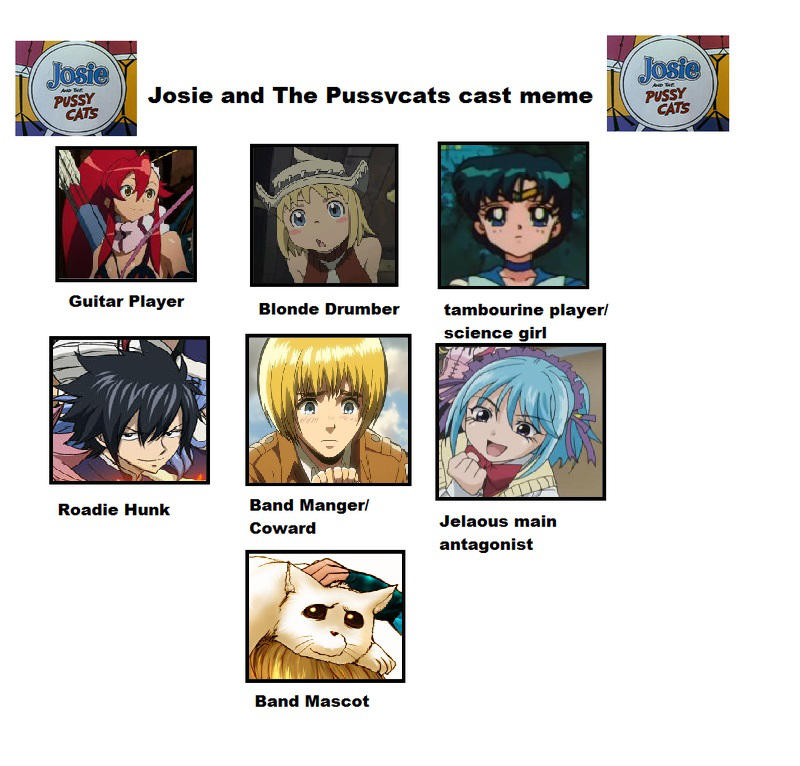 Watch
Link to blank meme -
unicornsmile.deviantart.com/ar…
Another meme, but this time it's a character recast on a certain classic. Here is my cast for one of my favorite classic cartoon TV shows titled Josie And the Pussycats:
Guitar Player: Yoko Littner (from Tengen Toppa Gurren Lagann)
Drummer: Patty Thompson (from Soul Eater)
Tambourine Player/Science Girl: Ami Mizuno/Sailor Mercury (from Sailor Moon)
Roadie Hunk: Gray Fullbuster (from Fairy Tail)
Band Manager/Coward: Armin Arlelt (from Attack On Titan)
Jealous Main Antagonist: Kurumu Kurono (from Rosario + Vampire)
Band Mascot: Menchi (from Excel Saga)
All characters/images belong to their original creators.
Josie And the Pussycats belong to both Archie Comics & Hanna-Barbera.
Blank meme belongs to


Reply

Guitar Player-Porco Rosso (Porco Rosso)

Blonde Drummer- Ken (Street fighter)

Tambourine Player- Hell Girl (Hell Girl)

Roadie Hunk- JP (Redline)

Band Manager/Coward- Shinji Ikari (Evalgelion)

Jealous Main Protagonist- Yato (Noragami)

Band Mascot- The Girl from Angel's Egg


...I dunno about you put I've either created the worlds worst sit-com or the worlds most fucked up death metal band! xD
Reply