Hi honey, I'm Kat!
I'm obsessed with drawing, specifically with drawing ponies.
I love beautiful creatures and ponies are SO BEAUTIFUL!
I hope you like my art and if you give me a watch I would be so happy!
You can also find me on...
...instagram:
www.instagram.com/katpuze/
...twitter:
twitter.com/Katputze
...youtube:
www.youtube.com/channel/UCcU4n…
...deviantArt (second account):
www.deviantart.com/queen-kitty…

To get access to much more art from me, 18+ content and more consider supporting my patreon:
www.patreon.com/kittykatputze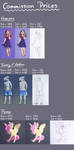 note me if interested!
Favourite Visual Artist
Sven Nordqvist, Pascal Campion
Favourite Movies
Disney Robin Hood, Ponyo, Lilo & Stitch, Happy Feet
Favourite TV Shows
Gumball, Spongebob, eh I don't really watch any shows
Favourite Bands / Musical Artists
Stevie Wonder, Bob Marley, Minnie Riperton, Die Ärzte
Favourite Games
Twister, throw and catch with anything but a ball, drawing a squiggly line and making something out of it
Favourite Gaming Platform
PC, Nintendo Ds and anything you can play Just Dance on or do karaoke