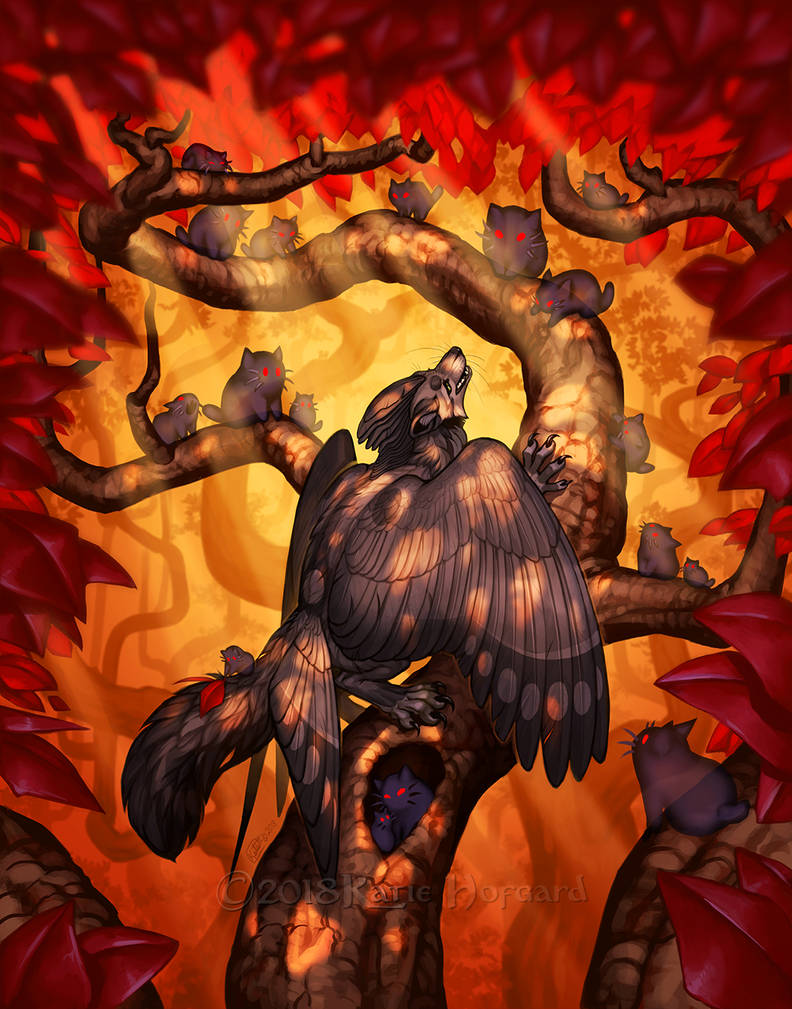 Watch
During autumn, the Alecani have a holiday called the Tahn festival; they gather all their shed fur and molted feathers from the summer, wrap them with sweet smelling herbs, and burn them in a giant bonfire while feasting on the year's harvest! An alecani will yip and dive to throw their bundles into the fire, gaining admiration and applause for how close to the flames they can get. It's a celebration of change; burning the old and welcoming the new. And a challenge to the fire spirits of old, to say "here comes winter, the harshest season of the year, and I'm fit and can't be brought down by you!" They often smudge soot into their fur, or dye themselves all black around this time of year as part of the fire related revelry.
Nym has recently colored herself in midnight tones for the Tahn festival, and on a peaceful fall day finds herself in the company of some friendly spirits! These spirits in particular seem to enjoy the season, and show their appreciation of Nym's temporary dark colors by playing and tying leaves into her fur.

This piece was created thanks to the support of my patrons on Patreon!

Goodness! Look at those forefront leaves!
Reply

The lighting here looks wonderful, I love this!
Reply

adorable yet creepy

I love it!
Reply

Reply

Katie Strikes Again! with another wonderful and incomparable work of art!!

it's gorgeous, you did amazing!
Reply

Reply

Reply

what a charming illustration for halloween!! I love those cute little spirits - will you provide some details about these guys at any point? I'm pretty curious about these funny guys!!
Reply

Beautiful as always.

I always love seeing more of your world!
Reply

KATIEEE THIS IS SO, SO GOOD AAAAAAAAAAH
THE LIGHT THOUGH THE TREES ♥____♥
Reply

I like this Scene is so magic
Reply

Another aspect of a well developed universe. There are days mine feel so simple by comparison.
Reply

The one on his tail is the cutest!
Reply