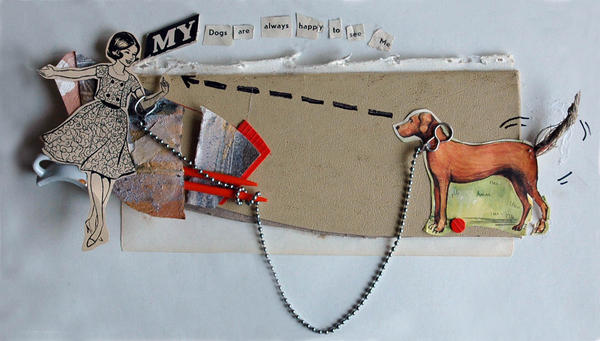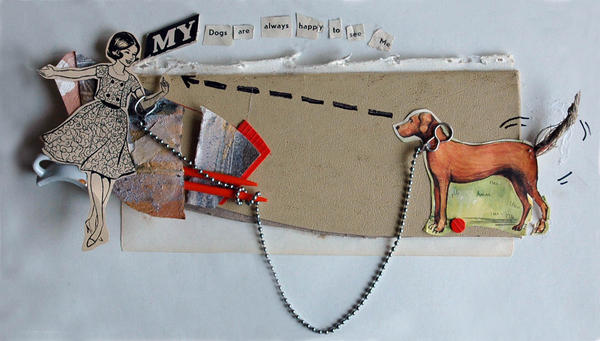 This work was created in response to a Paint Your Pet exhibition that I was invited to show in, up here in my new town. I've made three works so far all about how my pets used to make me feel, as I don't currently have any pets! One is based on dogs I've owned, one on pet birds, and one of fish. I'll post the other two shortly.

One of the best things about owning dogs, is that even if you look like crap, are in a foul mood, or just aren't thinking about them, dogs are still always happy to see you.

Mixed Media Collage
'My Dogs Are Always Happy To See Me'

I like this series - is good to see work from you! I hope they're not working you too hard up there, I miss your sculptures

Reply

Yeah, working hard, but also just been too damn tired to do much. But I've started to get back into the swing of things now. Probably won't be any sculpture for awhile, as I don't have any of my tools, etc up here, but the collages are keeping me going!

Reply

Reply

Clever assemblages Kate! Can I call them' Sweet' even?

Reply

Yep, you can certainly call them sweet. I was going for a slightly humorous, tongue-in-cheek take, -with that 1950's sort of properness. If that makes sense!
Reply

I can see that, absolutely.
The picket fence era , when everything was as you say, so proper,or at least it seemed so on the surface

Reply

I am happy to SEE it! Like dogs too. Havent got on. Just a Kat and she is human!
Reply

Well Kat and dogs may not go together?
Reply

They can. (And Kats and Elks ) I am the elkman from sweden.
(you might not understand this, but it is ok)
Reply

Wow I love these new works, such a different approach! I just love everything about this one!

Reply

Thanks mate! Yeah, they are very different from my usual style. But they were heaps of fun to make and I plan to try and get back into the swing of things now that work has calmed down a bit! Hopefully I can start exploring this sort of style a bit more.
Reply

Reply