My Website
∫
Artfire Store
∫
DA Store
∫
Zazzle Store
∫ ∫
PSP Tubes
∫
Commission Info
I'm a traditional artist/illustrator from N.Y. ( cant believe its been 9 years with DA!! )
My style of art is realism, mixed with occasional chibis and cutsey stuff
I love fantasy art because it's creative and magical and portrait art because I like capturing peoples expressions and emotions.
I draw and paint many different subjects
My preferred mediums are graphite pencil, charcoal,color pencils,watercolor, pastels ,acrylics.
My artworks can be found on many licensed products such as cross stitch patterns, tubing/graphing, Rubber Stamps,Digi Stamps ,I also sell my own prints and bookmarks through my website and other online stores. My Art has been published in several books and recently published my own artbook. Please visit my website at
www.katerinaart.com
katerinaart.com where you will find all of my fantasy and portraiture artworks which are available as prints and originals for sale. For commission work please read my commission info on my website.
Feel free to contact me with questions at katerinaart[a]aol.com
Thank you so much for your interest and support in my art
With all my love
~Katerina~
My Art on:

Rubber Stamps
Cross stitch
Fabric Block
PSP Tubes

Daily Deviation Awards
Given 2005-10-22


Tears In Heaven by *KartK does not reflect all the majesty that her gallery holds. Its merely an example. Other works by her are richer in their themes and skill. As a whole her works are lovely but she has defined a cult with her angelic portraits. ( Suggested by ~bobbyrock


and Featured by `oedalis

)

Daily Deviation
Given 2007-09-22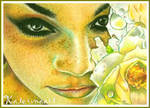 fav.me/d10qop5
SeaRose Beauty - ACEO by *KartK "A Beautiful mermaid hiding behind a sea rose..." ( Suggested by ~Elitha

and Featured by `guruubii

)

~Stamps and Avatar Gifts ~


Avatar Gift by my friend and fellow artist


Avatar gifts by my friend and artist
Jenna Radford




~Other Art Galleries~
Epilogue
Shadowness.com
Artwanted.com
Fantastic Portfolios
Elfwood
EMG Potrait
Saatchi


~Follow Me~
Instagram
Facebook
youtube
Twitter
Blogger
My Space
Google +


My 2017 Calendars
Buy HERE www.zazzle.com/katerinaart/cal…


Random Things i like


:thumb287134641:

:thumb90235499:
:thumb90235407:



















Current Residence: N.Y USA
Favourite genre of music: Pop,classical,rock,etc..anything 80's
Favourite photographer: Nina Larsen
Favourite style of art: I love any art portrait,fantasy , especially traditional art worked with pencils,watercolors etc...
Favourite cartoon character: The Little Mermaid ,Rapunzel (Tangled) Tom&Jerry