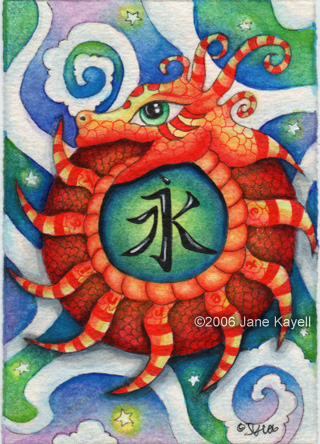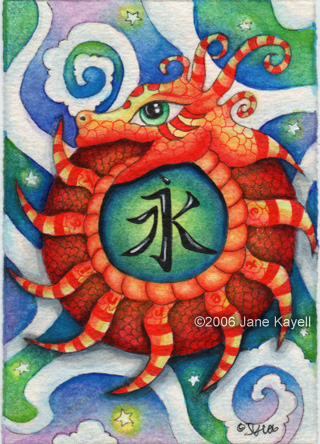 Medium: Watercolor, Water Soluble Pencils, & Ink
Size: 2.5" x 3.5" (ACEO size)
Surrounding the Chinese symbol for "Eternity", an Ouroboros swallows its tail in an unusual night sky. Hidden in the Ouroboros' body is the word "eternity" (can you see it?)

An Ouroboros (aka "Oroboros") is an ancient symbol depicting a dragon or snake swallowing its tail. It represents the cyclical nature of things, eternal return, and other things perceived as cycles that begin anew as soon as they end.
©2006 Jane Kayell, All Rights Reserved. This artwork may not be reproduced in any way without my explicit written permission.

This is wonderfully done. The dragon stands right out of the backdrop of the night sky, all the colors wonderfully meshes together. You can see the nice transitions from the blue to purple and the reds to oranges to yellows.

Just something that was bugging me, the character in the middle is actually Chinese, Japan has three sets of alphabets in which one is kanji, the set for Chinese characters. And that symbol can also represent 'forever'.
Reply

Thank you so much! It was tough blending all these colors in such a small space, glad you like it

Thank you also for the info on the kanji, I've changed the description!

Reply

it's BEAUTIFUL! and the dragon looks like hes/shes eating his/her self
Reply

it's BEAUTIFUL! and the dragon looks like hes/shes eating his/her slef
Reply

Thank you!

Yup it is eating it's tail - it's an endless cycle

Reply

Reply

I adore this...It's colorful, it's fun...Great design

Reply

I really like this a lot for its unusual color scheme--the night sky especially is done very well. To nitpick, my only suggestion would be to center it so that the right-hand side of its body doesn't look squished against the margin, but it's still a really beautiful picture.

Reply

Thanks for your comments! Somehow I didn't realize the Ouroboros was off-center until I was already half done painting. And by then it was too late to start over

(I paint on pre-cut cards, and it's important that they stay 2.5"x3.5")

Reply

Symbolic AND well done. Great job.
Reply