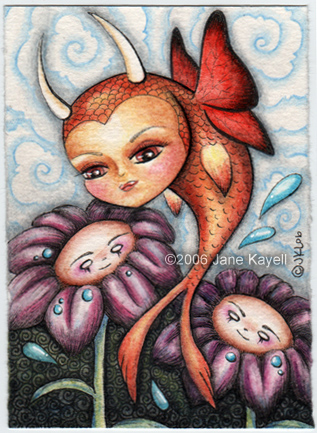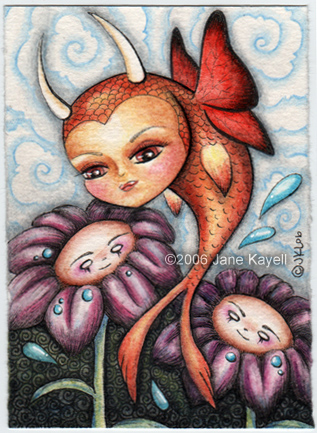 Watch
Medium: Water Soluble Pencils & Ink
Size: 2.5" x 3.5"
Winter is ending and life becomes dull for this horned flying fish creature. She looks at the ground as strange flowers pop up from the melting spring snow.
...I painted this as winter was ending. I like winter, and never look forward to it's end. I'd have it snow in Cali year round if I could....

©2006 Jane Kayell, All Rights Reserved. This artwork may not be reproduced in any way without my explicit written permission.

This is one of my favs. Yeah It does remind me of Mark Ryden's style but with something else too, I guess the art from Smashing Pumpkins album.
Reply

Ooh really? Which Smashing Pumpkins album?
Glad you like this

Reply

beautiful! kindof reminds me of mark ryden. i love him

Reply

a personal favourite of mine from your gallery..
love the style and the expression on each of them and i really like the story behind it

Reply

Thank you so much

I always wondered if anyone read my descriptions


Reply
Gorgeous works in your gallery!!
Reply