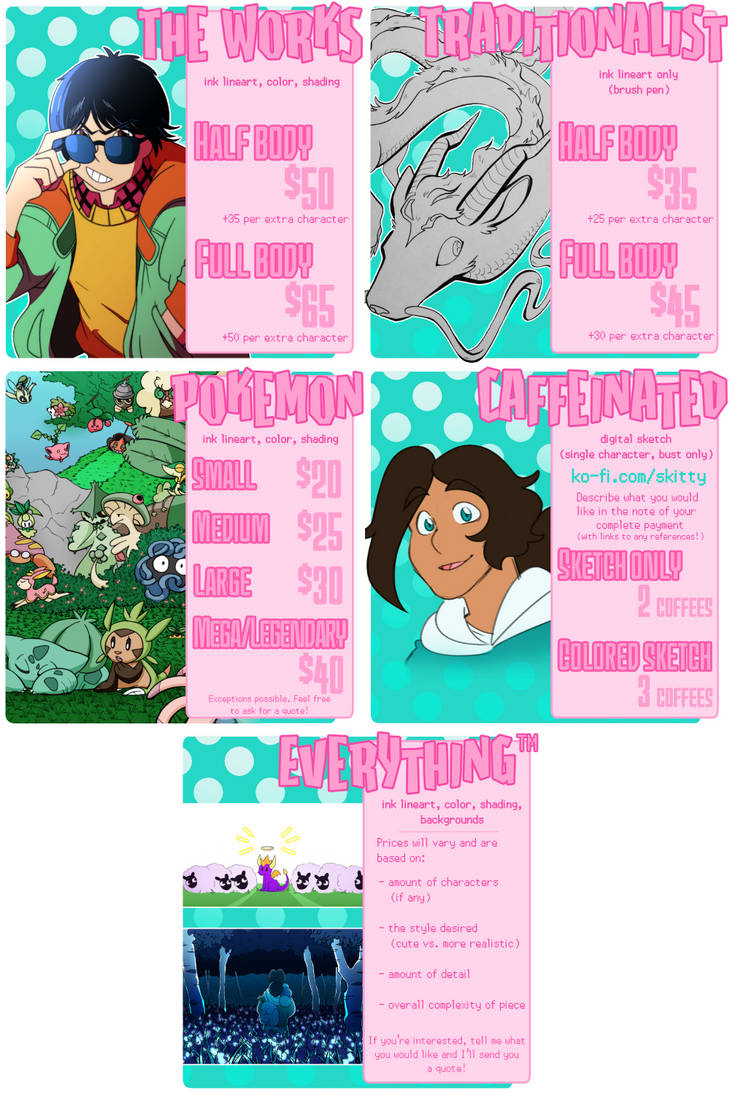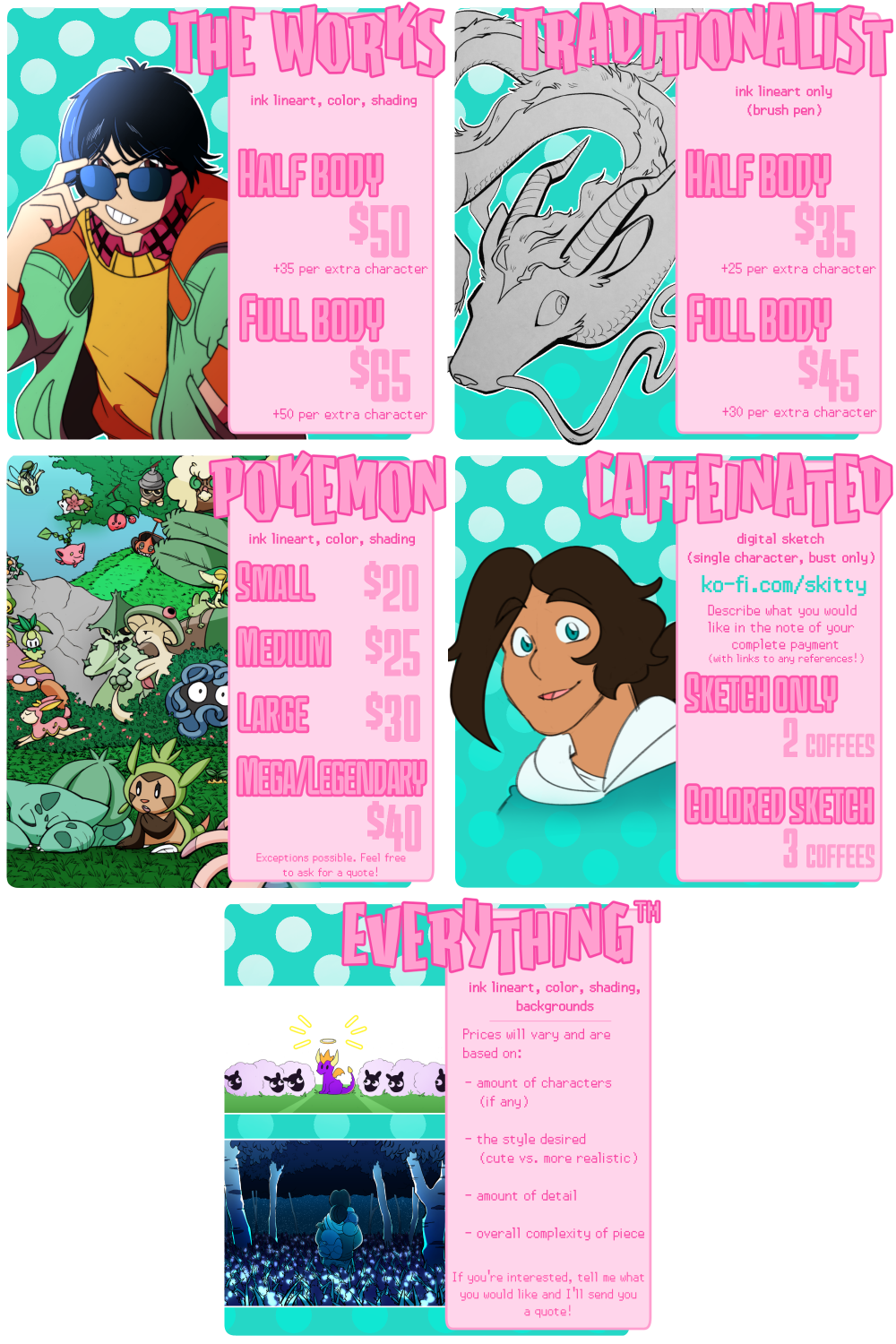 Watch
All payments are UPFRONT and are through Paypal invoices (or, in the style of Caffeinated commissions, through Ko-fi). Contact me about what you are interested in, and once we agree on the price, I will send you an invoice.

You can email me (angryskitty@gmail.com), leave a comment below, or send me a note if you're interested! You can also ask general questions here in the comments below.

---------------------------------------
Disclaimers:

-All prices listed are in USD.

-I have the right to refuse a commission request for whatever reason.

-I have the right to use your commission for my portfolio and to show as a commission example. I do not post your art online without your permission.

-I do not start working on your commission until I receive the agreed-upon payment in full.

-I will need a visual reference to complete your commission request. I will design characters without a visual reference, but there will be an additional fee.

-Anything NSFW will be at least an additional $20 to the total price.

---------------------------------------

Terms and Conditions

No refunds. If your financial situation changes while I am working on your commission, let me know as soon as possible so that we can work something out.

I can take on other projects that this commission sheet doesn't show. If you'd like me to draw you something else (DnD character/party, icon, Pokemon breed variations, etc.), we can work out a price.

I will draw most things, including furries and mechas. The only things I am not comfortable with are gore (blood and minor cuts/bruises/injuries are fine) and sexual NSFW (nudity is fine, however; please note that all NSFW art will have an additional charge). There may be other things that I am not comfortable with drawing for you, and I ask that you respect me declining your commission request for whatever reason.

Commissions take as long as a month to complete. With the complexity of the commission, life events, my irl job, and the amount of commission requests I receive, it's possible it will take longer. If you need something in a shorter amount of time, please bring it up at the start of our communication so that a time table can be worked out.
While I am working on your commission, I will send you works in progress of your illustration to make sure that you are satisfied with the final product. Although it depends on what kind of commission you asked for, I typically send a picture of the final sketch and the inked lineart to make sure you are happy with how things are going. During this time (especially during the sketch) it is ENCOURAGED that you tell me if you are not happy with how the picture is turning out and what changes you would like to see. The further along I am with your illustration, the harder it is for me to make changes, and once I am far enough along in the commission, I cannot take certain requests to change the art.
If you are determined for big enough changes to the commission at such a late stage, I will charge you an additional fee before continuing on with the illustration.

Please respond to any contact from me at your earliest convenience, especially regarding works in progress. I halt any work on your commission until waiting to hear if you are pleased with how it's turning out.


I am definetely interested. Seeing mt character in yoir style would be awesome.
Reply

Reply

Neat! : D If you're interested in a commission, you can either go into detail of what you would like here in the comments or send me a note!
Reply

How much would it cost to get a computer background sized picture with this guy (
toyhou.se/3262908.russell
) surrounded by skitties? They wouldn't have to be just normal or shiny skitties unless that would be best for you.
Reply

Unfortunately the link isn't working for me -- it says 'invalid character selected' if that helps? However, from what you described, I can probably get a pretty accurate quote up!

The sizing of the file doesn't affect the commission price at all (only complexity and the amount of characters). So, if you're wanting something fully colored and shaded, a humanoid character would be $50 - $65 (half-body versus full-body), and one Skitty would be 'small' at $20 each under normal conditions -- but depending on how many Skitties you're wanting in the picture, I would easily cut down the price of each Skitty as a horde deal. 'Surrounded by Skitties' sounds like 10 or more, which I would drop to $5/Skitty, making 10 Skitties equaling $50 instead of $200. So the total commission price fully colored and shaded looks like it would turn out to be $100 or more, depending on how many Skitties.
Reply